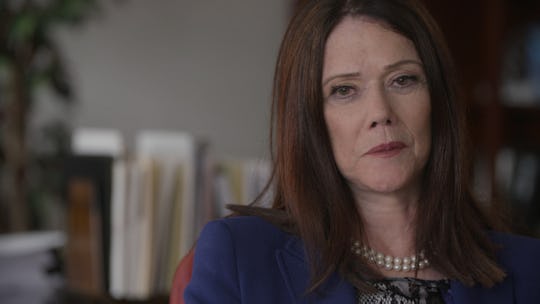 Netflix
Meet Steven Avery's Fierce New Lawyer In 'Making A Murderer Part 2'
If you watched the first season of Making a Murderer, you may have been left with the feeling that there has to be more to the story. Luckily the documentary makers stuck around, and are bringing Steven Avery's case back into the spotlight with an all new season. In Making a Murderer Part 2, Avery has a new attorney, and viewers want to know everything about her. So who is Kathleen Zellner?
Zellner is a Chicago-based attorney, and according to her firm's website, she has quite an impressive track record. As a wrongful conviction specialist, Zellner's firm has had 19 defendants exonerated, and is now tackling Avery's case and appeal. "The deeper we dig into the Avery conviction, the more evidence we uncover of his innocence," Zellner wrote in a statement for her firm. "It does not matter how long it takes, what it costs or what obstacles we have to overcome — our efforts to win Mr. Avery's freedom will never stop."
Zellner is a pretty experienced and high-profile attorney, and she's been winning cases long before taking on Avery's. Super Lawyers Magazine recently featured Zellner as a lawyer who lives to win impossible cases, in 2015 Chicago Magazine ranked her as one of the most influential people in Chicago, and in 2014 she was named Chicago Lawyer "Person of the Year." Her cases have also led to a few notable TV appearances, including the Oprah Winfrey Show, Good Morning America, and The Today Show.
According to the profile on her firm's blog, Zellner was born in Midland, Texas and was the second-oldest of eight children. Her mother, Winifred, was a pediatric nurse and her father, Owen, was a geologist who used rocks and geology to inspire her to turn small clues into a larger narrative. Zellner initially studied English and History at Concordia University in Montreal, Quebec, where she would find herself crafting literary arguments — pulling together puzzle pieces to support her interpretations of the books she was assigned. This is also where she met her husband, Robert Zellner, a Ph.D student in econometrics, whose job brought her to Chicago.
Zellner decided to turn her puzzle-solving insight into a career, and graduated from Northern Illinois University's College of Law in 1981. She started her law career by clerking for a 2nd District Appellate Court justice and eventually opened her own practice in 1991. With her law and trial partner, Doug Johnson, Zellner began tackling appeals cases, and exonerated her first client, Joseph Burrows, in 1994.
Since then, she has overturned numerous cases, and has earned the respect and admiration of the judges she has presented in front of. Cook County Circuit Judge Thomas L. Hogan called Zellner "one of the finest lawyers" to try a case in front of him, and U.S. District Judge John W. Darrah said she would be a "poster child" for the evidence and trial advocacy courses he teaches at John Marshall Law School.
Turning over cases is extremely difficult, and it seems that Zellner's skill and determination is what makes her so successful. And when it comes to Avery's case, she seems just as determined as ever. "Giving up on his case would be accepting that someone else got away with murder and our justice system is just too incompetent, indifferent and/or inflexible to recognize this huge mistake and rectify it," wrote Zellner. "We are going to keep ringing the doorbell at this so called Court of Justice until someone answers it."
So, with Zellner by his side, Avery's case is far from over. It will be interesting to see what new evidence and perspective she brings to his case on Making a Murderer Part 2, and whether or not she turns his case into her next big win.
Making a Murderer Part 2 premieres on Oct. 19 on Netflix.