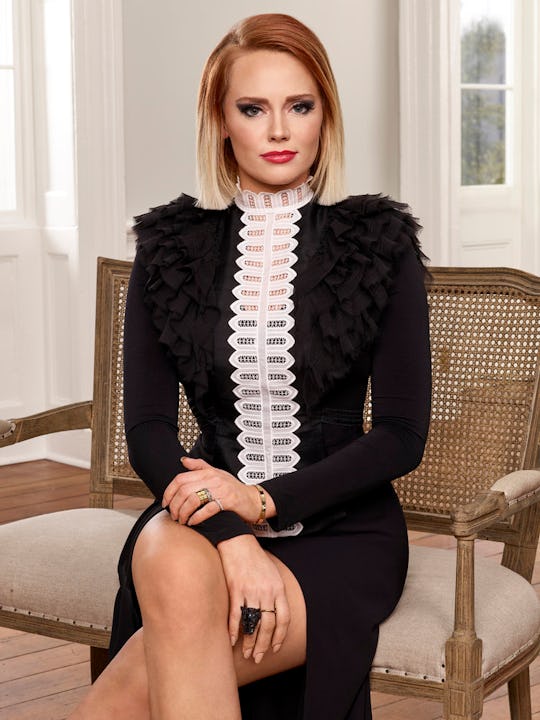 Rodolfo Martinez/Bravo
Kathryn Dennis Could End Up Having A New Special Someone In Her Life On 'Southern Charm'
As on many reality shows, on Southern Charm, knowing who everyone else is dating is a big deal. And it is probably the biggest deal for Kathryn Dennis, whose on-and-off-again romance with Thomas Ravenel and the resultant two children has provided plenty of dramatic plot to fill up four seasons all on its own. But now that Thomas has moved on with another woman in Season 5, you may be asking who is Kathryn dating on Southern Charm? The young mother is undeniably beautiful, though I would caution anyone who gets involved with her not to cross her. Her words can be as cutting as her face is striking.
Who is Kathryn dating is a question as old as Southern Charm itself, as her romantic relationships have caused a good portion of the drama in every season of the show. If you can remember that far back, in the first season of the show Kathryn hooked up with both Shep and Whitney before settling down with Thomas. Settling down here being a relative term. One person in the cast who Kathryn has never had any romantic moments with was Craig, who once had a crush on Kathryn (even though he told his girlfriend Naomie later that he never did).
Phew, you guys got all of that? I know it's a lot but bear with me. After all of that drama, Kathryn became more serious with Thomas, though their relationship was not without its ups and downs. For a while it looked like the couple was heading toward a break up, sleep together, get pregnant cycle that wouldn't have ended well for anybody. These days, Thomas has custody of their two children while Kathryn is moving on from an addiction problem (and doing amazingly, I might add). But it doesn't look like there's anyone special in her life aside from her children.
Well, that's not totally accurate I suppose. I secretly think that she and Shep have some sort of romantic relationship happening. In the first look trailer for Season 5 of the show, Kathryn and Shep are shown bowling, when Kathryn tells Shep she had a dream that he was in love with her. Now, this could mean nothing. After all, people dream about lots of things. And even if Kathryn was only saying it to be flirty, Shep could choose not to bite. However after taking a deep dive into Kathryn's social media, I begin to have my doubts.
While most of her posts are modeling shots of herself or cute pictures with her kids, I noticed a couple pictures taken with Shep. Now I know, I know, they're friends. And just because a man and a woman are friends, it doesn't mean they're in love. All I'm saying is that Kathryn hasn't shown any interest in any other guy that I've seen, and everyone who watches the show knows that Shep is desperate to find the perfect woman — the one who combines a deep knowledge of 19th century Russian novels with the ability to drink tequila shots until the bar closes at 4 a.m.
I don't know if Kathryn is that woman. But what I do know is that Shep has recalled their evenings together fondly so maybe there was always a spark there. But whatever does happen with Kathryn's love life, you can be assured that it will likely be filmed and it will definitely be full of drama and surprises for all of us to enjoy.
Check out Romper's new video series, Romper's Doula Diaries:
Watch full episodes of Romper's Doula Diaries on Facebook Watch.