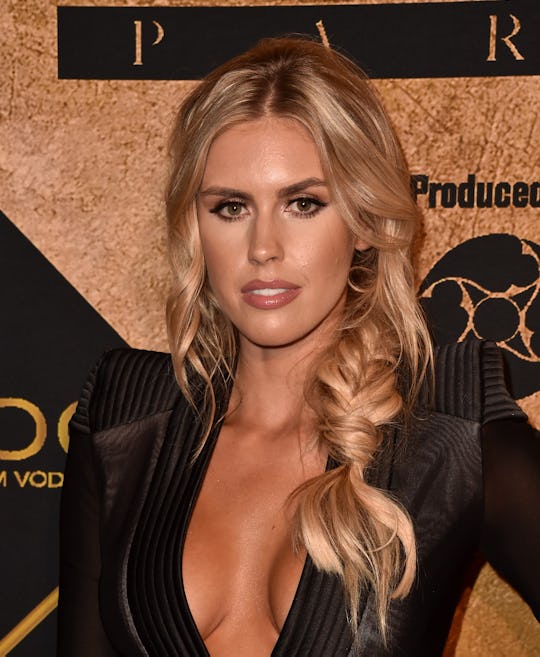 Alberto E. Rodriguez/Getty
Who Is Kayla Rae Reid? Ryan Lochte's Girlfriend Might Have Met Him On Tinder
When you're swiping on Tinder, you don't expect to see a Playboy model or a buff Olympic swimmer as you go through the best and worst potential dating partners. Well, you might expect that, but you definitely don't expect them to be real. Somehow, that may have been how Ryan Lochte met his current girlfriend, though. But who is Kayla Rae Reid? She isn't just someone with a name that simultaneously rolls of your tongue and makes you wonder if you can say it five times fast without messing up. Reid is actually something of a celebrity in her own right, who has hinted at meeting Lochte through a dating app of all things, and has stood by her guy through all of the mess and scandal he brought with him during the Olympics. Basically, she's a trooper.
In an interview with Daily Mail, Reid said that "He was on Tinder. I might be on Tinder. That's all I'm going to say about it," which says enough to make us all believe in our own Tinder dreams coming true. Lochte and Reid are perfect examples of finding someone real and totally not creepy on dating apps like Tinder. But there's a lot more to Reid than the fact that she was down to meet someone she met off a dating site to see if he was the real deal.
She Was A Playboy Playmate
In July of 2015, Reid was the Playmate of the Month, while she worked as a Monster Girl, working for Monster Energy and promoting the drink at different motocross events all over the world. It doesn't look like Reid has been super into her Monster Girl gig lately, but that hasn't stopped her from keeping up with her modeling career by showcasing different clothing and bathing suit lines.
She's A Supportive Girlfriend
When the Lochte scandal broke out about allegedly having a security guard's gun pointed at him and also vandalizing a gas station with some of his teammates, Reid was quick to stick by his side. When you can see beyond the layers of scrutiny Lochte was under while he was in Rio, that's real love.
She Has A Selfie For Every Occasion
Like most celebrities (and all of us, actually), Reid is guilty of posting selfie after selfie on Instagram for every occasion. At the gym? Selfie please. Reading a book? Where's the phone? Hair totally on fleek? Better make sure that front-facing flash is off. But she's also one to post inspirational and positivity-inspired quotes as Instagram photos, and you really have to like that about her.
She's The "Mom" Of Her Group Of Friends
Reid posted a photo on Instagram with the words, "Every friend group has a mom," captioning it with "guilty. lol," and I kind of love her for it. You can almost imagine Reid lecturing her girlfriends about being positive and happy.
She's Already Met The Parents
Since Reid flew to Rio to support Lochte, she was able to have some bonding time with his parents, who were also in attendance, visiting him at the Olympic swimmers' Beats House. And now that Lochte is competing on Dancing With the Stars, the model and possibly her future in-laws will have more to bond over as they support him once again. But being a shoo-in with the parents is always the hardest part and if Lochte and his girlfriend can overcome that, along with his sometimes confusing Olympics scandal, they're good.