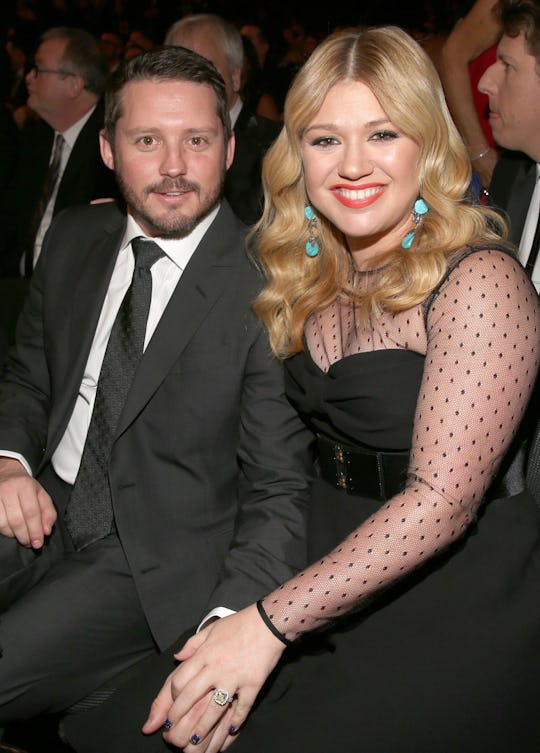 Christopher Polk/Getty Images Entertainment/Getty Images
Who Is Kelly Clarkson's Husband? Brandon Blackstock Is Literally Her Co-Pilot
Blink and you missed it: one moment Kelly Clarkson was singing her heart out on the American Idol stage, and the next, here we all are waiting for her second child to be born. If you're anything like me — wondering when did this happen and how old am I?? — don't worry, I can catch you up. In the years since Since U Been Gone became the breakup anthem of the century, Clarkson has grown up, gotten married, had a beautiful baby girl named River Rose, and now has a son on the way. So who is Kelly Clarkson's husband, and when did this all go down?
Clarkson actually married her manager's son, Brandon Blackstock, whose stepmother is famous country singer Reba McEntire. Blackstock is reportedly a pilot and tour manager; he used to be Rascal Flatt's manager. In 2013, Blackstock was managing country singer Blake Shelton, and, judging by Blackstock's current tweets (which are heavy on the Shelton retweets), he likely still is.
The couple got engaged in December 2012, and they were married the following year in a small, private ceremony in Tennessee. The only attendees were Clarkson, Blackstock, and his two children from a previous marriage. "We have to fit our romantic life into our schedule," Clarkson told Us Weekly beforehand. "It'll be both a wedding and an elopement. I like it! We are just doing a small, little wedding — me and Brandon and the kids. That is it. All we have time for! But we're happy with that." Clarkson was on her way to earning her pilot's license, so she reportedly flew their small family out for the wedding (alongside her pilot husband).
Clarkson and Blackstock had their first child together, River Rose, in 2014. Clarkson kept fans in the loop throughout her pregnancy, with tweets such as, "We just found out we're having a girl officially! I knew it! Only a girl could cause this much drama with all this vomiting ha!"
This past August, Clarkson announced the couple's second pregnancy on-stage at a show in Los Angeles. After tearing up during a performance of "Piece by Piece," she confessed to the crowd, "I was not planning on announcing this but I'm totally pregnant." She followed up by saying, "I didn't want you to think I was on pills or something!"
If I'm doing the math right, her August announcement means Clarkson's due date should be just around the corner. I seriously can't wait for the pictures of River Rose with her little brother.