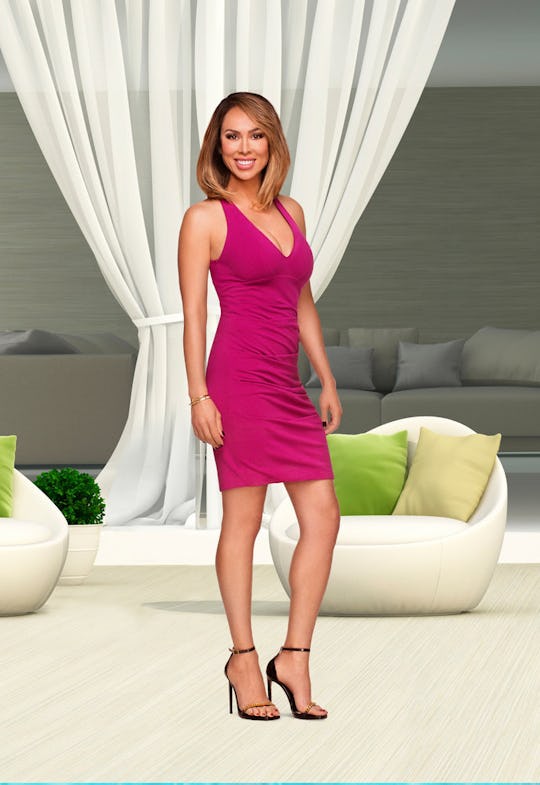 Chris Haston/Bravo
Who Is Kelly Meza-Dodd On 'Real Housewives Of Orange County'? This Lady Keeps It Real
The Season 11 premiere of The Real Housewives of Orange County is right around the corner, scheduled to return on June 20, and a new lady will be joining the original Housewives. So who is Kelly Dodd, the newest Real Housewives of Orange County star? According to OG Vicki Gunvalson in the Season 11 preview, Kelly looks like a "whoop it up girl."
The preview promises a bumpy ride for the ladies this time around (in one case literally, in which a dune buggy flips over with some of the women inside). Meghan King Edmonds is trying to get pregnant via IVF, marital troubles abound for Shannon Beador and Heather Dubrow, and Vicki is saying "I love you," on the phone to last season's Big Bad, her ex-boyfriend Brooks Ayers. Wow. Is the newest housewife to join the cast ready for that much insanity? According to her Bravo bio, Kelly will be bringing her "unfiltered opinions" into the mix, and is quick to befriend Vicki, despite warnings from "bestie" Meghan. Kelly also appears to be dealing with some drama of her own. The stay-at-home-mom is mending her marriage after a rough patch with her husband Michael, who is now at home full time. Also living in her house? Her brother Eric and mom Bobbi. Clearly, Kelly is no stranger to juggling personalities. What else can we learn about her?
She's A World Traveler
Kelly is originally from Arizona, but she has also lived in San Francisco before moving to Orange County. But she's also traveled abroad as evidenced by this photo of her in Ireland. I can't wait to see her first big trip with the Housewives.
She's A Devoted Mom
Kelly is a stay-at-home-mom to her 9-year-old daughter, Jolie. The two of them look awfully sweet snuggled up before a Justin Bieber concert.
Her Family Is Her Number One Priority
Kelly is always surrounded by her family (kind of hard to escape when you live with your younger brother and your mom), and she seems to love it. She's always posting old family pictures of her parents, her grandparents, her kids, and her nieces and nephews.
Her Design Style Is Absolutely Killer
This kitchen looks like a grown-up version of what Alice in Wonderland would bake those magic cookies in, and I want it.
Actually, All Of Her Style Is Pretty On Point
A+ lip color, Kelly.
I cannot wait to see what kind of drama Kelly brings to the group this season. Somehow, I think she'll be able to handle the heat.