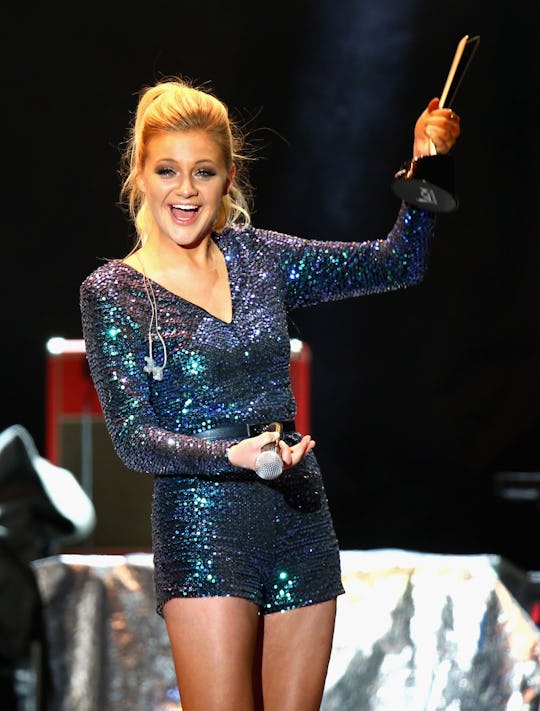 Mark Davis/Getty Images Entertainment/Getty Images
Who Is Kelsea Ballerini? She's The ACM's Rising Star
As country music fans ready themselves for the musical event of the year, Kelsea Ballerini is preparing to take the Academy of Country Music Awards stage. The 22-year-old country pop singer and songwriter, famous for her songs "Love Me Like You Mean It" and "Dibs," will be taking the stage to perform "Peter Pan" with Nick Jonas. She's not only performing, but she's already received a preliminary award as well, and she's up for another. So who is Kelsea Ballerini anyway, and how did she end up as the rising star of the ACM Awards?
For some, it might seem like the Tennessee native came out of nowhere. However, if you look at Ballerini's track record, winning the ACM's New Female Vocalist of the Year award at 22 seems like a natural progression. She's been dancing since she was three, according to AXS, and began singing at 12 — honing her skill for years until she finally released Kelsea Ballerini in November 2014.
Just a few short months later, her song "Love Me Like You Mean It" rose to #1 on Billboard's Country Airplay chart, making Ballerini the first female in nine years to top the chart with a debut single. According to Billboard, her achievements can be likened to those previously achieved by Carrie Underwood and Taylor Swift — which means she's probably far from peaking.
Speaking of Taylor Swift — who very successfully shifted from country star turned pop queen — Kelsea Ballerini's talent has been noticed by others in the field. Taylor Swift probably gave Ballerini's number of listeners a boost when she tweeted her admiration of the rising star, and Swift and Ballerini have since become fast friends.
"I literally looked at it and thought it was a fake account, and didn't think anything of it because I'm like, 'There's absolutely no way that Taylor Swift even knows who I am,'" Ballerini told MTV last year. "A lot of new people know my music now, which is huge and such an awesome thing for her to do."
It's Ballerini's talent that got her where she is, though, despite some serious endorsements. When she was signed, at 19, to the independent label Black River, she insisted on a producer she wanted rather than relinquishing all control over music. That's the sort of guts that can be hard to muster as a creative in any industry, let alone during a first big break and at such a young age.
Ballerini may be young, but she knows what she wants, and she shares her enthusiasm and vulnerability openly with fans — a recipe that tends to lead to success for female artists (think Jennifer Lawrence, Taylor Swift, and other pop stars who have rocked to success by being their authentic selves). In past interviews, she's shared that she's nearly cried on stage and that she hasn't always fit in very easily — and the girl exudes gratitude.
Of the ACM Awards, she told E! News, "It's so crazy to just be in a category like Female Vocalist of the Year and to be with Carrie and Miranda and Jana who I love, and Kasey... just to be with those women and celebrating women in country music with them is a really cool thing."
If she keeps going at the same rate as she is now, I have a feeling Ballerini will be celebrating much, much more very quickly.