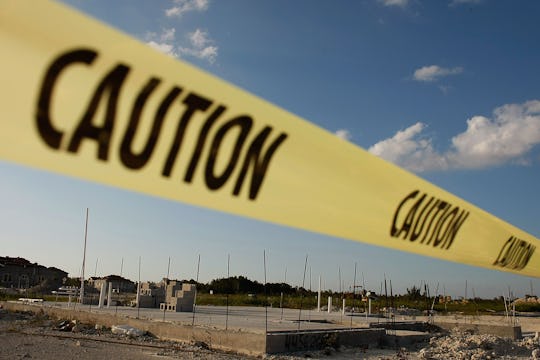 Joe Raedle/Getty Images News/Getty Images
Who Is Kendra Childs? Twitter Is Outraged Over The Young Mother's Death
An absolute tragedy occurred in Houston on Tuesday. Kendra Childs, 19, was gunned down in a deadly drive-by shooting, according to local ABC 13 in Houston.But who is Kendra Childs, and why has her story gone viral? Many people have taken to Twitter, using the hashtag #RIPKendra, to express their outrage over the young woman's death.
Childs was a mother and just shy of her 20th birthday when she died. According to ABC 13, police reported that a man and woman, inside what was described by witnesses as a newer model black Camaro, opened fire on the second level of Childs' apartment building, fatally striking her. Childs was reportedly alone at the time of the shooting, ABC 13 reported.
According to a statement the Houston Police Department released to Romper, Childs' boyfriend later came home and found Childs lying on the bedroom floor of the apartment. Childs was pronounced dead at the scene. Family members reportedly told police that they believe Childs was targeted.
"I feel very broken, and it just hurt because she didn't deserve to go like this," Childs' cousin Angel Whitaker said in an interview with ABC 13. "I understand it was her time, but she didn't have to go like this. She didn't even make it to her birthday tomorrow." Childs left behind a daughter reportedly 2 years old, according to The Houston Chronicle.
People on Twitter have speculated the shooter's identity, their motive and their past activities on Twitter, as a potential connection to the victim. But a spokeswoman for the Houston Police Department told Romper that it's still an ongoing investigation.
"Witnesses have told us, at the scene, it was a male suspect," the spokeswoman said. "At this time, we are aware of the information and are taking a look at the various tweets. It is an ongoing investigation. At this point we are looking for a male suspect."
The Houston Police Department also released more information about the suspect's description, revealing that the "suspect is described only as a black male who appeared to have a shaved head."
"Whoever did this, they were wrong and we will get justice for her," Whitaker added according to ABC 13.
It's truly a tragic incident that has undoubtedly left the victim's family and friends in devastation. The Houston Police Department released the following contact information for any helpful tips:
Anyone with information in this case is urged to contact the HPD Homicide Division at 713-308-3600 or Crime Stoppers at 713-222-TIPS.