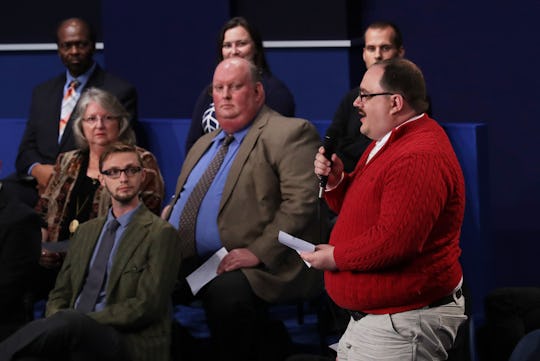 Chip Somodevilla/Getty Images News/Getty Images
Who Is Kenneth Bone? The Town Hall Debate Audience Member Gets Lots Of Twitter Love
Debates and elections can be ugly things. Luckily on Sunday night, one audience member used his platform to ask a question especially pertinent to the wavering 2016 cycle — one full of actual policy: "What steps will your energy policy take to meet our energy needs while at the same time remaining environmentally friendly and minimizing job layoffs?" Immediately, social media fell in love. But who is Kenneth Bone, the man behind the inquiry and the one Twitter was buzzing about on Sunday night?
First, it's important to note that not all the love for Bone centered on his whip-smart question. "Ken Bone. Power name. Power outfit," joked one Twitter user, referring to Bone's blazing red cardigan, his black-rimmed glasses, and tucked shirt and tie. "Y'all are gonna remember Ken Bone in three weeks right 'cause I'm shopping red sweaters on eBay right now," another tweeted.
Others felt Bone's cheerful presence was reason enough to love him. "I think we can agree the winner of tonight's debate was Ken Bone," one person wrote. Another user daydreamed, "I bet Ken Bone brings roses to his wife randomly. Just because. What a gem." In the comments below her tweet, a follower delightfully compared Bone to beloved children's show figure Mr. Rogers.
Within minutes of the debate's end, a Facebook fan page had been set up in Bone's name, with the creator cheekily noting that Bone was "a wonderful man."
"Just look at that stache," the creator wrote.
Little information was available about Bone himself. The questions (and likewise, those asking them) were screened by polling organization Gallup and selected by the moderators, Anderson Cooper and Martha Raddatz, according to CNN Money. Commission on Presidential Debates executive director Janet Brown stated that the audience questions were selected "with the goal of maximizing the number of topics covered."
Whatever the case, it seems the moderators chose wisely on Sunday night — and social media largely agreed. "I think we can all agree that Ken Bone has brought Americans a little closer," wrote one enamored Twitter user. "Thank you."
As Bone finished snapping memories of the debate hall with his disposable camera, leaving the venue completely unaware of his flash-fame, the public's obsession grew to a clamor. "Is Ken Bone single?" one woman questioned. "Ken Bone is my new hero. Forget oil. Forget steel. Forget energy. I vote for Ken Bone's mustache," wrote another user.
Perhaps the pinnacle of the social media-sphere's growing, one-sided love-affair: A Snapchat photo of Bone wearing the app's ever-popular "dog-face" filter.
If only politics could always be this simple.