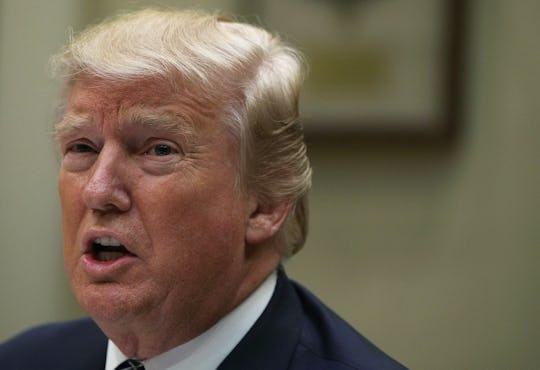 Alex Wong/Getty Images News/Getty Images
Here's What You Need To Know About Kenneth Frazier After Trump's Tweet
On Saturday, white nationalists and pro-Nazi protestors clashed with counter protestors and police in Charlottesville, Virginia, leaving one woman dead. President Trump has been rightfully criticized for his response to the violence — but he just ramped it up to an entirely new level of "how not to respond to incidents of white nationalist violence" on Monday. Trump took to Twitter to bash Kenneth Frazier for having the fortitude to stand up to what is appearing more and more like the Trump administration's tacit acceptance of white nationalist values. Who is Kenneth Frazier? He's the CEO of Merck Pharmaceuticals, and until 8 a.m. Monday morning, was a member of the President's American Manufacturing Council — but after Charlottesville and Trump's terrible response to it, has resigned.
Frazier announced his resignation via a statement on by Merck's official Twitter account Monday morning, saying in part, "America's leaders must honor our fundamental views by clearly rejecting expressions of hatred, bigotry and group supremacy, which run counter to the American ideal that all people are created equal." His response is important: As Merck's CEO, Frazier is African-American — and one of only a very few African-Americans running Fortune 500 companies.
Naturally, the most presidential way to respond to Frazier's act of "personal conscience," was for Trump to bash him on Twitter.
According to CNN, Frazier was the only black male CEO of the President's American Manufacturing Council. Frazier was invited to the White House in July to promote an agreement between three major U.S. companies — Merck, Pfizer, and Corning — to create 1,000 new jobs as part of Trump's "Made in America" week. In January, Frazier and Trump shook hands at the council's first meeting. But after Monday's tweet, it's obvious that any previous job creation love Trump may have had for Frazier is apparently non-existent.
Frazier isn't only the most prominent business mogul to leave the council — but he's certainly the most recent. In June, Tesla CEO Elon Musk resigned from from two presidential councils, including the manufacturing council, over Trump's decision to pull out from the Paris climate agreement. Likewise, Disney CEO Bob Iger resigned from a separate presidential advisory council in June in protest of Trump's withdrawal from the Paris climate agreement. Conservative blogger Jennifer Rubin wrote for The Washington Post encouraging that rest of the President's Manufacturing Council to follow Frazier's lead and resign in protest:
Now would be the perfect time for the rest of them — CEOs of companies that espouse a commitment to nondiscrimination, diversity and inclusion — to depart, not only in solidarity with Frazier but also in an act of civic-minded devotion to the country.
Frazier's complete statement over his resignation from Trump's manufacturing council is below.
While Trump has since issued a second statement on Charlottesville early Monday afternoon — a clear "do over" from Trump's tone deaf "many sides" response from Saturday — the damage has been done. Here's hoping that other business leaders will put their money where their mouths are and stand with Frazier against Trump's atrocious response to pro-Nazi violence by following Frazier's resignation with their own.