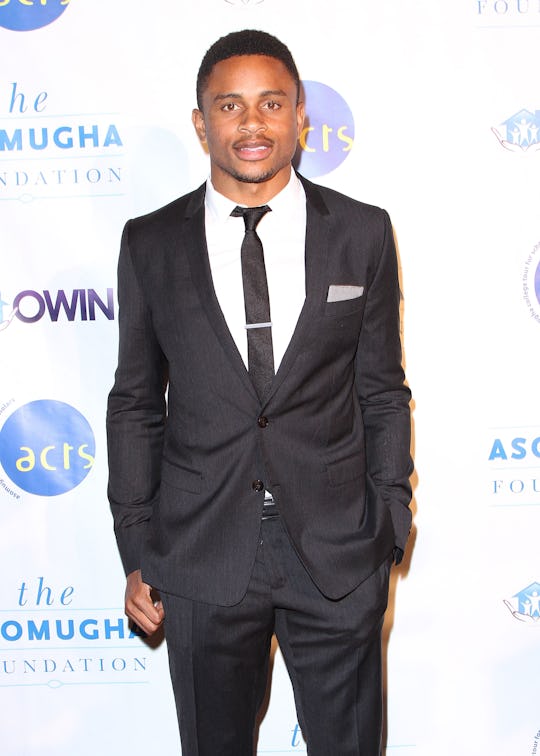 Maury Phillips/Getty Images Entertainment/Getty Images
Who Is Kerry Washington's Husband? Nnamdi Asomugha Is A Former Pro Football Player
Kerry Washington and Nnamdi Asomugha just had their second child. Who is Kerry Washington's husband? Asomugha used to play in the NFL and now he's a proud dad of two.
Asomugha and Washington's son came into the world on Oct. 5, according to E! News. Caleb Kelechi Asomugha is the younger brother to Isabelle Amarachi Asomugha. Washington gave birth to her first child on April 21, 2014, E! News reported, but she's been mostly quiet about motherhood. She and Asomugha are private about their lives as parents despite both having major careers in the public eye.
As Washington continues her role as Scandal's Olivia Pope, Asomugha is adjusting to retirement. Asomugha grew up in Lafayette, Louisiana and played college football for the University of California, Berkeley. Football cornerback Asomugha spent 11 seasons as a professional player, according to the NFL. With a height of 6'2" and a weight of 210, Asomugha was a powerful player. He started out in 2003 with the Oakland Raiders, playing eight seasons in California before signing with the Eagles. After two seasons in Philadelphia, he spent a season with the San Francisco 49ers and opted to retire in 2013 at age 32 as a Raider, ESPN reported.
Retiring as a Raider was particularly poignant for Asomugha since he spent so much of his professional career in California, according to ESPN. Asomugha reflected on the honor while announcing his retirement:
I'm just grateful to be back, grateful for everything to go full circle. For all of the achievements and awards, to be able to retire as a Raider ranks highest among all of those.
Though Asomugha had both high and low points in the NFL, ESPN reported that he was a first-round draft pick in his first season and qualified to play in three Pro Bowls over the course of his career. He may not be on the field now, but he's still got a packed schedule. Asomugha and Washington got married quietly in June, according to People. Though Washington spends most of her professional life acting, her husband has also done some on-camera work; Asomugha's IMDB profile indicates that he appeared on The Game as a party guest in 2008 and has had multiple guest spots on TV shows in the years since. He seems to have added even bigger projects to his résumé in recent years. In 2015, he played Shaka in the Sally Field comedy Hello, My Name Is Doris, and his newest project, Crown Heights, is in post-production and scheduled for release in 2017. Asomugha is also continuing his work with The Asomugha Foundation; People reported that the foundation aims to provide educational opportunities to "disadvantaged youth" in the United States and "orphans and widows" in Africa.
Asomugha and Washington are definitely a power couple. But given their tendency to keep family life separate from their work, it seems as though growing up with a former pro football player and a Scandal superstar as parents could actually be surprisingly normal.