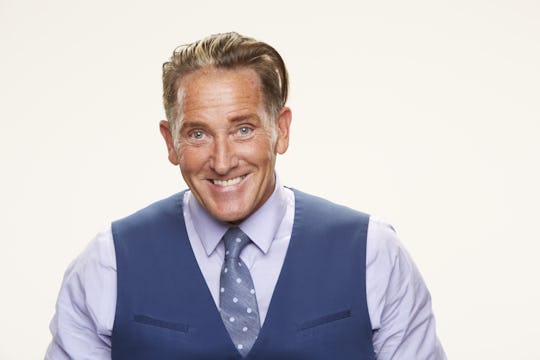 Sonja Flemming/CBS
Kevin Schlehuber From 'Big Brother 19' Is A Family Man
It's officially summer, which means it's time for an all-new season of Big Brother. The new cast has been revealed and as always fans are already picking their favorite contenders and the ones they're confident won't last long. One contestant who may get underestimated is one of the older competitors. So who is Kevin Schlehuber from Big Brother 19?
Kevin hails from Boston, Massachusetts where he grew up with six siblings and is now the stay-at-home dad of seven children, according to his CBS bio. He's been married for 31 years and of his seven kids, six of them are daughters. At the age of 55, he's the third-oldest house guest to ever appear on the show (and the oldest of the current season), which does potentially put him at a slight disadvantage in the house. Most often, the older the houseguest, the sooner they're eliminated, because they're seen as easy targets. However, if Kevin — whose strategy is just to be himself — can lay low and even befriend some of the houseguests, he could still have a good shot at making it to jury.
Though Kevin doesn't seem to know that much about the show, his daughters are big fans. During the interview for his CBS bio, Kevin revealed that his favorite Big Brother contestant is Derrick from Season 16 because when they met Kevin thought he "seemed like a nice guy."
While Kevin isn't famous (yet), his daughter and niece are YouTubers who have almost 10,000 subscribers. He sometimes appears on their show, as seen in the video above. Kevin was also Mr. Massachusetts on The Geraldo Rivera Show back in 1986, where he won a hunk contest, and was the dunk champion for the city of Boston in 1981.
For Kevin, he believes the hardest part of the game will be being away from his family for so long, which is understandable since he has a big family. However, Kevin says he'll deal with it because he knows they're rooting for him to win. With a family of this size, it's kind of like Kevin already has a built-in fanbase, so that may also help him in the game, depending on how the audience will came into play this season.
While Kevin may not be one of the top contenders, don't count him out just yet. He may just surprise you. You can meet Kevin and the rest of the house guests when Big Brother 19 premieres at 8 p.m. ET on Wednesday, June 28.