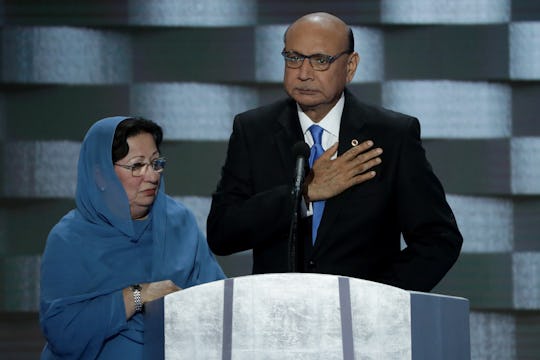 Alex Wong/Getty Images News/Getty Images
Who Is Khizr Khan? His Message To Donald Trump Was Powerful
Khizr Khan, and his wife Ghazala, took the stage at the DNC Thursday night to deliver one of the most powerful speeches at the convention. Khan's impassioned speech, honoring his son, Capt. Humayun Khan, who sacrificed his life to save his fellow soldiers in Iraq, poignantly addressed Donald Trump directly for his dangerous anti-Muslim rhetoric. And he did so by powerfully honoring Humayun and his legacy. Who is Khizr Khan? A Pakistan-born father to a brave American soldier.
In a 2005 interview with The Washington Post, Khan, a trained lawyer, told The Post that he and his wife left Pakistan for Silver Springs, Maryland, in the 1970s, because Pakistan was under military rule. "It sounds cliche," Khan said. "But that is the story."
Khan and Ghazala had three sons, and told The Post that Humayun was preparing for law school when he was called back to duty. Since Humayun's death, they learned he mentored a young man while he studied at the University of Virginia (where he joined the ROTC), and became an unofficial counselor for mentally troubled soldiers, among other impressive contributions, The Post reported.
During Khan's speech at the DNC, the proud and emotional father stood by his equally emotional wife, and talked about their son's brave sacrifices.
"Our son, Humayun, had dreams of being a military lawyer," Khan said, captured by a transcript of his speech by a DNC press release. "But he put those dreams aside the day he sacrificed his life to save his fellow soldiers."
The Republican presidential nominee has spewed misguided anti-Muslim, and Islamophobic rhetoric since the day he announced his candidacy for president. He had called for a "shutdown of Muslims entering the United States," and has used fear-mongering tactics to connect terrorism to a "massive Muslim problem."
In an interview with The Huffington Post, Khan pointed out that building walls (do you hear that Trump?) would not be the solution to eradicating terrorism. He also poignantly noted that military force has not been the solution either.
"Today the global menace is terrorism," Khan said. "What is the solution? If military is the solution, military would have already done it. Military is not the only solution. To really eradicate terrorism is to join hands, not build walls and exclude each other. That is not a solution. That is adding fuel to the fire."
At the DNC Khan noted that if Trump's policies were in place, his son Humayun would likely not be in America in the first place. And in what was probably one of the most powerful lines to come out the DNC Thursday night, Khan spoke directly to Trump, reminding him that unlike Humayun – Trump has "sacrificed nothing."
Have you ever been to Arlington Cemetery? Go look at the graves of the brave patriots who died defending America — you will see all faiths, genders, and ethnicities. You have sacrificed nothing and no one.