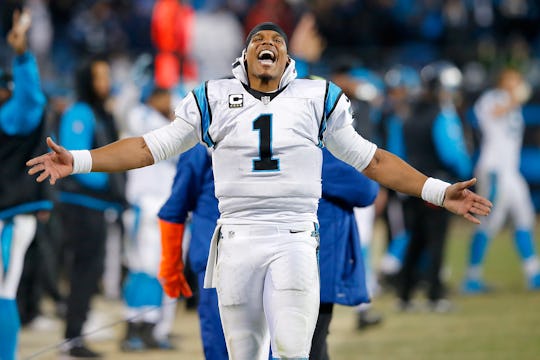 Kevin C. Cox/Getty Images
Who Is Kia Proctor, Cam Newton's Girlfriend? The Cute Couple Just Welcomed A New Addition To The Family
Cam Newton had the sports world talking yesterday when he arrived in San Francisco for the Super Bowl decked out in a pair of awesome Versace yellow Barocco zebra print jeans, complete with a great monogrammed travel bag — not surprising for someone so sartorially gifted. But no matter how great he looks on any given day, Cam Newton and his partner Kia Proctor look even better together. Proctor, 27, and Newton, 26, have been dating since 2013, so even if the Panthers don't win the championship, Newton's been having a good year.
Proctor gave birth to the couple's first son, Chosen Sebastian Newton, on Christmas Eve this year, and Newton tweeted the announcement of his son's birth a week later. "My longtime girlfriend and I were extremely blessed to have a son last week," he wrote. He added that their families were "excited" and that he was grateful to fans for their well wishes. Newton was so ready for his son that he even left practice to be at the hospital for the birth. At a press conference a week later, Newton could hardly restrain himself from talking about the new baby.
"It was pretty cool, pretty cool...These past couple of days have been so monumental for me," he gushed. Proctor also has a daughter with another man, but in her Instagram posts, Proctor doesn't mention her name or age. (But the little one is definitely cute.)
Proctor previously worked as a dancer at the Washington DC Stadium Club, according to the website Player Wives but has since taken up modeling as a day job. As a dancer, she went by the name Hazel, but judging from her Instagram account, she is completely dedicated to modeling these days and shares some of her glamour shots on the social network. She also takes killer selfies of herself and her daughter hanging out.
Proctor was raised in Maryland and Virginia, according to Hollywood Life, but now lives in Atlanta with Newton. They seem like a great match. He's outgoing and fun, and known for his touchdown dances and they appear on red carpets and events together all the time. One of their first appearances together was at the Kentucky Derby in 2013, where she rocked a killer pink hat. As one does, right?
Although Proctor's a busy new mom, with a crazy career of her own, she'll no doubt be in the stands cheering Newton on during the Super Bowl. Shortly after his son's birth, he cradled the football like a baby when he scored a touchdown. Panthers fans are definitely hoping he'll many more opportunities to show off for Proctor, baby Chosen, and her daughter come this next Sunday.