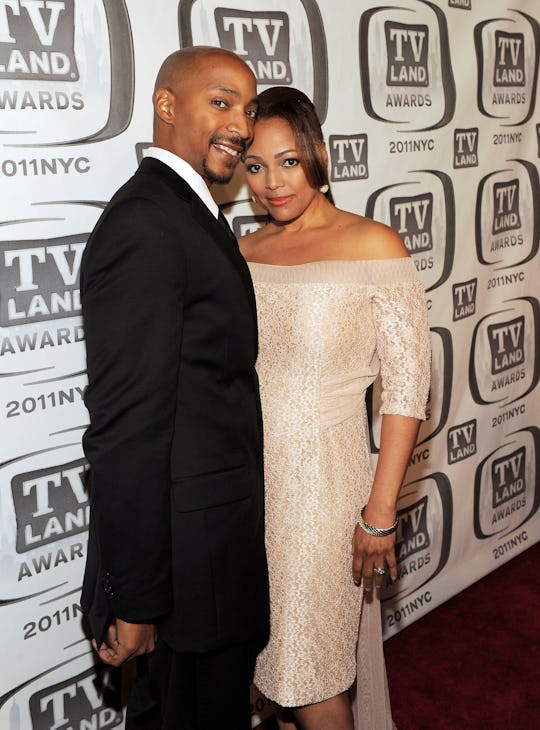 Larry Busacca/Getty Images Entertainment/Getty Images
Who Is Kim Fields' Husband? The 'Dancing With The Stars' Contestant's Other Half Is Very Supportive
Whether you loved her on The Facts of Life or have been scratching your head as to why someone so drama-free would join The Real Housewives of Atlanta, you probably love the Housewife and actor, Kim Fields. Now, the former child actor has a new role, as Kim Fields is joining Dancing with the Stars' newest season and is ready to wow audiences with her dance moves. On Dancing with the Stars, Fields' partner is the very skilled dancer, Sasha Farber, who began on the show in 2012. But, off of the dance floor, you may be wondering who Kim Fields' husband is — a.k.a., her real life partner. Field's husband, Christopher Morgan, also has some skills of his own.
Kim Fields has a very impressive resume. She has acted for many years — she's particularly well-known for her role as Tootie on The Facts of Life — and her husband is just as successful. Morgan has a wide variety of roles, having appeared in movies, on stage, and is an excellent dad and husband. Although Fields is a star in her own right, the two of them together are a force to be reckoned with. Here is how you may know Christopher Morgan from his past roles and just a few reasons why he is so amazing.
He's An Actor
Back in 2005, Morgan appeared in two films — Blood of a Champion and Romance & Cigarettes. The latter starred Kate Winslet, Susan Sarandon, and Mandy Moore. However, Morgan shines best on stage. He has performed in multiple musicals, including Ain't Misbehavin', and he's currently starring in Into the Woods, playing Cinderella's Prince Charming.
He Could Be On Dancing With The Stars
This should come as no surprise with his Broadway background, but Morgan could've been Field's partner on Dancing with the Stars, considering his dance skills. Besides dancing, though, Morgan's voice is phenomenal. You have to wonder if he and Fields, who also has singing experience, perform duets with each other. Karaoke date nights, anyone?
He Stands Up For Himself
In one episode of The Real Housewives of Atlanta, Kim Fields' co-star, Kenya Moore, stated on the show that there has been a rumor in the entertainment industry that Morgan is gay. Morgan addressed the rumors in an interview with E! News, dismissing them as completely fabricated.
He's A Great Father
Morgan and Fields have two adorable sons, Quincy Xavier and Sebastian Alexander, and it's clear Morgan has nothing but love for them. Just scrolling through his Instagram, there's a never ending stream of cute pictures of his young sons. And the captions Morgan writes show just how proud of his sons he is. "My sons are shining!!! I am a grateful father!" he wrote on the photo above. Adorable!
He Gives Back
Alongside his wife, Morgan has been known to promote charitable foundations. For example, a few years ago, Fields and Morgan made a video to support the documentary of Ozzie Davis and Ruby Dee and asked others to donate as well. It's great that the couple can use their name for good.
It's clear Kim Fields and Christopher Morgan are already a winning team. Let's hope Fields and her new partner, Sasha, are a winning pair, as well.