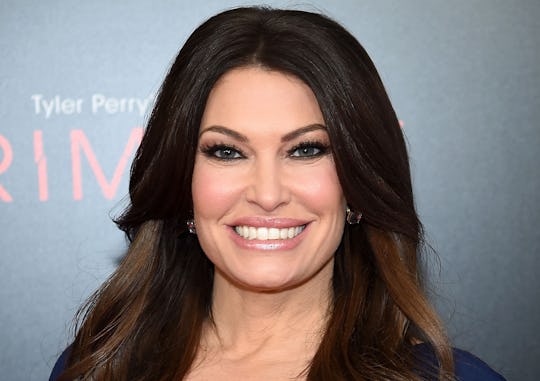 Jamie McCarthy/Getty Images Entertainment/Getty Images
This Is The Former Fox News Host Donald Trump Jr. Is Now Dating
Well, well, well, the Trump men certainly do have a type, don't they? That's not a picture of the first lady you're looking at, but Donald Trump Jr.'s girlfriend, Kimberly Guilfoyle, formerly of Fox News. You may think that's an odd choice, given the family's track record, but it all checks out: just like her boyfriend's estranged wife and all three of his father's, Guilfoyle is also a retired model. In fact, according to the San Francisco Chronicle, she paid her way through law school by modeling lingerie, which is such a fascinating detail, I really want Lifetime to do a biopic of her and focus way too much of it on that.
But that's only one step in her her storied career, so fine, I'll move on. After graduating law school, Guilfoyle worked as a Deputy District Attorney in Los Angeles, and an Assistant District Attorney in San Francisco, gaining a bit of national and international attention when she successfully prosecuted attorney Margorie Knoller for second-degree murder after the dogs she was caring for mauled a woman to death, a first for California. Thus began the television arc of her career, though it was was a bit of a rocky start.
After hosting five episodes of the Court TV program, Both Sides, in 2005, she moved over to Fox News to host a short-lived show called The Lineup. Following that program's cancellation, she appeared regularly as a guest legal expert on several other Fox News series such as Fox and Friends, Hannity, and The O'Reilly Factor. She was eventually named co-host of The Five in 2011, and in 2017, it was announced that she'd signed a long-term contract with Fox. "I'm excited to remain at Fox News Channel, a place I have called home for many years, and to continue my role as co-host of The Five," said Guilfoyle in a statement obtained by AdWeek. "I very much look forward to what lies ahead."
What lied ahead, apparently, was about 13 more months of The Five, culminating in this extremely brief statement from the network last Friday: "Fox News has parted ways with Kimberly Guilfoyle." No details were given regarding the abrupt departure, according to CNN, but the fact that she's been dating the president's eldest son for the past few months put her in something of an "ethical dilemma", as she "was regularly involved in on-air discussions about Trump, putting her in a spot where conflicts of interest issues arose on a near-daily basis."
I'm thinking that might not have been too much of a concern for Guilfoyle, who defended Roger Ailes after Gretchen Carlson filed a sexual harassment suit against him, saying, "This is a man who champions women." Oh, and it gets worse. From her AdWeek interview:
This is a tough business and you're asked to do a job. And part of doing that job is to rate and to do well and to perform and at certain points, when people are unable to do the job they're hired to do, what happens is people are let go. Their contract is not renewed. This happens every day in this business and then what you see in certain situations like that is retaliatory and people get upset and disgruntled and take certain measures to express themselves.
But whatever the real reason for the split, Guilfoyle had a new job lined up by Tuesday, tweeting, "I've decided to leave Fox News Channel and dedicate myself full time to joining America First as Vice Chairwoman, campaigning across the country and firmly standing with President Trump," according to People. America First Action is a super PAC that describes itself as "dedicated to electing federal candidates who support the agenda of the Trump-Pence administration." Last month, former White House press secretary Sean Spicer signed on as the group's senior advisor and spokesman. With less than four months to go before the midterm elections, they have their work cut out for them. Makes you wonder when she finds time for dating.