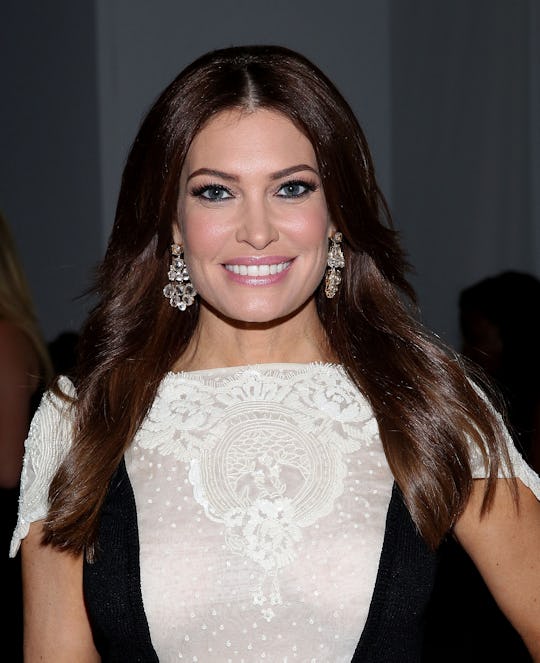 Robin Marchant/Getty Images Entertainment/Getty Images
Fox News Host Could Be Replacing Sean Spicer
You can't deny that White House press secretary Sean Spicer has one of the most difficult jobs in the world. And over the last few months, the stress of the famously high-pressure gig has not gone unnoticed by anyone. So much so, that several media reports indicate that he could allegedly be the next White House staffer to get the boot and President Donald Trump has even reportedly discussed a replacement for him. According to Mediaite, the president is reportedly considering Fox News anchor Kimberly Guilfoyle as his next White House press secretary.
Amid growing growing criticism and negative media coverage over Trump's decision to fire former FBI director James Comey, The New York Times reported on Friday that there may be yet another staff shake-up within the Trump administration coming in the near future and Trump reportedly has Guilfoyle in mind as a possible press secretary.
As Mediaite reported, this idea has been floating around for months as the 48-year-old Fox News host had previously been seen entering Trump Tower shortly after the election, igniting speculation that she'd be joining Trump's communication team. In December 2016, Politico reported that Guilfoyle was a top contender for the position and had several meetings with Trump, but Spicer was ultimately selected to fill the role.
While she's not an entirely new face to the world of Trump, some might still be wondering who she is and what Americans should expect if she in fact does replace Spicer. Nothing is official, but here what you should about the next possible incoming White House staff member.
Guilfoyle has a legal background and has been with the conservative network since January 2006, starting as a the host of a crime-based program called, The Lineup. Currently, she serves as a legal analyst for the channel and is also a co-host on The Five, a talk show with a rotating panel who discuss politics, current events, and pop culture. Over her television career, she's also appeared as a legal analyst on other cable network programs, such as Good Morning America and Anderson Cooper 360.
She's also defended Trump on many occasions regarding his tense relationship with the press.
Before she moved to television nearly early 2000s, Guilfoyle was a Bay Area prosecutor, "where she set out to advocate for victims of violent crimes," according to a 2015 interview with Mediaite.
"When you're forced to survive, you learn to navigate for yourself and advocate for others," she told Mediaite in 2015. "I became a prosecutor because I got my greatest joy in working with victims of violent crimes. I understood that profound sense of loss, and I could relate to it, and I wanted to do anything to help them heal by seeking justice."
Other than working for Trump's favorite television network, People reported that she Guilfoyle is also reportedly a big fan of Howard Stern.
Guilfoyle was born in San Francisco and is of Puerto Rican and Irish decent. She's the mother to a 10-year-old boy named Ronan Anthony with ex-husband Eric Villency. She was also previously married to San Francisco Mayor Gavin Newsom, having hosted Prince Charles and Camilla as the former first lady of the city.
It's too soon to tell if Guilfoyle will be the next one to be standing behind the podium and nothing has been confirmed regarding whether Spicer's job is in jeopardy. But in the meantime, let's hope SNL is discussing who will take the role of Guilfoyle for any upcoming skits (my vote is for Cecily Strong).