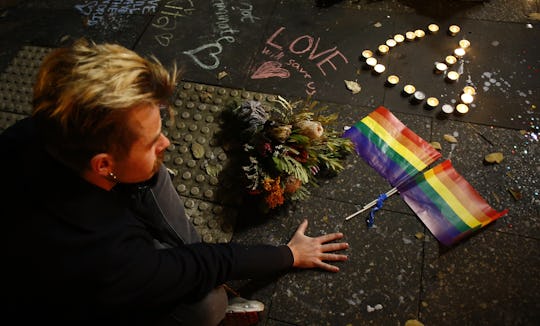 Daniel Munoz/Getty Images News/Getty Images
Who Is Kimberly Morris? The Pulse Nightclub Bouncer Always Wore A Smile On Her Face
Monday morning the world is woke up to the horrible reality that the deadliest mass shooting in American history took more than 50 people away from the friends and family that loved them. The names of the victims are slowly being released as the next of kin are notified, their stories remind us that the people in the Pulse nightclub on Saturday night were no different than any collection of revelers anywhere in the country on any given night. They were all ages, all races — an accountant, a travel agent, and there is Kimberly "KJ" Morris. Who is Kimberly Morris? She was a 37-year-old bouncer who is being remembered by friends and family as a loving person who always had a smile on her face.
Morris had just moved to Orlando from Hawaii two months ago to take care of her mother and grandmother, according to the Orlando Sentinel. She wanted to get involved in the LGBTQ community in her new city and found herself at Pulse, a place where so many seemed to find a place to congregate and celebrate. Morris landed a job as a bouncer at Pulse and was killed on Saturday night as a gunman opened fire on unsuspecting patrons after 2:00 a.m. As the club's bouncer, you can only imagine that Morris was right in the middle of the fray.
"She was so excited," her ex-girlfriend Starr Shelton told the Orlando Sentinel. "She'd just started working there and told me how she was thrilled to get more involved in the LGBT community there."
According to friends, Morris was athletic. She played college basketball with friend Narvell Benning at Post University in Waterbury, Connecticut, the Sentinel reported.
"She was just the sweetest person. I can't think of a time when I did not see a smile on her face," Benning told the Sentinel. "I'm so thankful of the good memories I have of her. This is just unreal."
Morris was also reportedly a fan of MMA fighting. After college she moved to Hawaii, which she left in April to move to Orlando. Morris touched many people's lives, and, following the news that she was among the dead in Orlando, friends began sharing remembrances of her on social media.
According to her Facebook page, Morris also used the nicknames KJ Morris and "Daddy K." Her friends are commenting on pictures of her as a way to remember the friend they've lost.
"She was always so full of life," one of her friends named Chuck wrote under a profile picture she updated on May 11 with the caption"Thankful!"
I can't remember a time where she wasn't smiling," he added. "She always made my day brighter. She will be greatly missed."
The Orlando Police will continue to release the list of names of the victims of the shooting at Pulse nightclub, and the rest of the country should make sure that their memory is the one that persists after the tragedy.