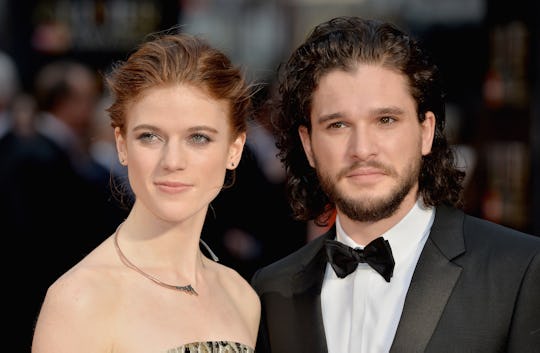 Anthony Harvey/Getty Images Entertainment/Getty Images
Who Is Kit Harington's Girlfriend? Rose Leslie Is An On & Off Screen Love Interest
On Game of Thrones, Jon Snow and Ygritte had a tragic love story. At first they were enemies who hated everything the other stood for, then they fell in love, before Jon ultimately betrayed Ygritte to return to the Night's Watch and Ygritte was then later killed by Olly. Seriously, falling in love in Westeros is basically suicide at this point. However, out here in the real world Jon Snow, or as he's more popularly known, Kit Harington, is doing very well on the relationship front. So who is Kit Harington's girlfriend? Well it's none other than Ygritte (Rose Leslie) herself.
As is often the case in Hollywood the two co-stars fell in love while on set. Although they were on and off since 2012, the couple seems to be completely on now. Although both Harington and Leslie are very private when it comes to their personal lives, the two stepped out together for the first time as a couple earlier this year at the 2016 Olivier Awards in London. Not only did they walk the red carpet but they even displayed some PDA which is very rare for these two but was absolutely adorable to see and we can't wait to see more of it.
This year Harington is nominated for his first Emmy nomination for his role as Jon Snow and it'd be surprising if Leslie didn't come to the show to support him. As part of the Game of Thrones family herself, Leslie would fit right in at the Emmy Awards. With Game of Thrones up for so many awards this year the whole cast will undoubtedly be in attendance and it'd be great to see Leslie reunited with her former co-stars and beau. Plus, we just need more pictures of Harington and Leslie together. They're both so gorgeous and will definitely stun on the red carpet if they decided to come together.
The Emmys will air on Sept. 18 at 7 p.m. EST on ABC and a live stream of the red carpet will air on the Emmys website beforehand. Make sure to tune in and see if Harington brings Leslie as his date. Although, honestly, how could he not bring her?