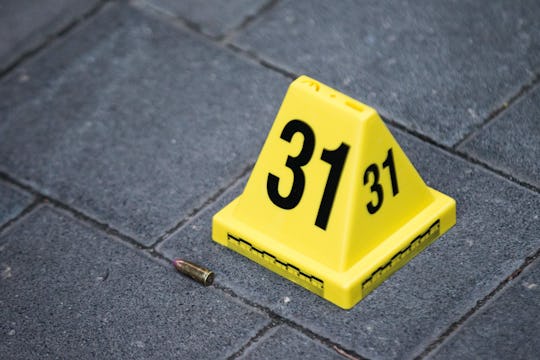 JACK GUEZ/AFP/Getty Images
Who Is Korryn Gaines? The Mother Died In A Standoff With Police
A woman was shot and killed after an hours-long standoff in Baltimore that left her 5-year-old son wounded. Authorities say Korryn Gaines, 23, barricaded herself in her apartment with a shotgun after police arrived with an arrest warrant, according to NBC News. They also had a warrant for the arrest of an unnamed man for assault.
Gaines was wanted on a bench warrant for failing to appear in court in response to charges of disorderly conduct, resisting arrest after a traffic stop, and several other traffic offenses. A video allegedly posted by Gaines to her Instagram appears to show her discussing the situation with her son while the police attempted to gain entry.
It has also been alleged that several other videos were also posted to her Instagram during the standoff that have since been deleted, but this has yet to be confirmed.
After trying to gain entry for about 15 minutes, officers obtained a key from the landlord and entered the apartment yesterday morning at about 9:40 a.m. A yet-unidentified man who had been in the apartment attempted to flee with a 1-year-old child, but was apprehended by police, according to NBC News.
Gaines was discovered seated on the floor with the shotgun and her 5-year-old son in her lap.
Throughout the several-hours long standoff that followed, Gaines aimed the long gun at the police and tactical personnel, according to The Independent. A spokesperson for the Baltimore County Police said in a press conference said that at 3 p.m., Gaines allegedly told police "If you don't leave, I'm going to kill you," The Independent reported.
In response, one round of shots was fired at her by an officer. Gaines responded by returning fire. Then, the remaining officers opened fire. The second round of shots killed Gaines and also wounded her son — the investigation has not yet clarified whether the boy was wounded by gunfire from police or his mother. It is also unclear where in the apartment the child was when shots were fired. Police said his wounds were non-life threatening and he is expected to survive.
"We do not like to be in a position of having to use lethal force, but this was a situation where our officers exercised patience for hours and hours," said police spokesperson Elise Armacost at last night's press conference.
The Baltimore Sun spoke to several of Gaines' family members who said she was "feisty, but she was smart and she was respectful," and described her as being "a beautiful person, really smart, intellectual." Gaines graduated from Baltimore City College in 2010. A vigil will be held on the college campus on Friday.
Authorities said that they do not yet know whether the police involved in the standoff were wearing body cameras. The department reported that they began using the cameras last month but some officers have yet to receive one.
The officers involved will be placed on administrative leave while the incident is investigated, according to a statement by the Baltimore County Police. The names of the officers involved will likely be released later this week.