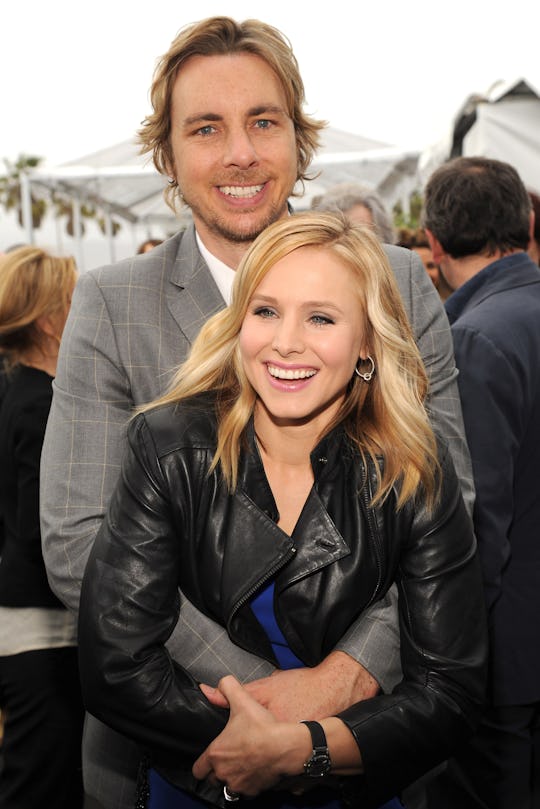 Kevin Mazur/WireImage/Getty Images
Who Is Kristen Bell Married To? She Shared Her First Adorable Instagram Photo
Kristen Bell made her first foray into the wide world of Instagram this week. She shared her first photo, and it's a good one. In it, she's mid-kiss. But, who is that? Who is Kristen Bell married to? It's pretty adorable, and fans need to know.
Though you may not recognize Bell, you'll recognize her voice. Besides her role on House of Lies, she's probably best known for playing Anna in the beloved animated film, Frozen. You may also remember her from the Veronica Mars series, whose devoted fanbase raised money for a reprise seven years after the show ended. She also starred in Forgetting Sarah Marshall. Based on her newly minted Instagram feed, it looks like the Frozen star has a pretty fairytale life, to some extent. In the first photo she posted, she's kissing her husband, fellow actor, Dax Shepard. While Shepard isn't a household name (yet!), he's best known for his roles in the cult classic Idiocracy, a brief appearance on Parks and Rec, and Parenthood. He usually plays hapless airheads, bumbling nice guys, or quick comedic relief. Like Bell, he's got a great reputation for being down-to-earth, kind, and funny — in real life.
Though the two met in the acting world, they both grew up in Michigan before moving to Los Angeles to start their careers. Allegedly, they met at a friend's birthday party. The two were engaged in 2010, but they did not get married in a hurry. They had a three-year engagement that ended when they were finally married in 2013, the year their first daughter, Lincoln Bell, was born. They welcomed their second daughter, Delta Bell, on Dec. 19, 2014. Talk about a beautiful family.
Bell captioned the post, "I don't know how to use instagram, but I do like this picture." It's easy to see why. But, still, don't be so modest, Bell! It looks like she's an Instagram star in the making. That first photo got upwards of 30,000 likes overnight. Not bad for someone who has no idea what she's doing. She may be trying to familiarize herself with the social media platform in preparation for her takeover of the @disneyanimation account. She'll be running that feed to promote her latest film Zootopia. If you can't get enough Bell and Dax, follow both. Based on her latest posts and this good-morning selfie she posted to the Disney account, fans will be getting a very real glimpse into their everyday lives.
And that includes this other adorable member of the Bell-Shepard household, Lola.
See? If you know what's good for you, follow this account immediately.