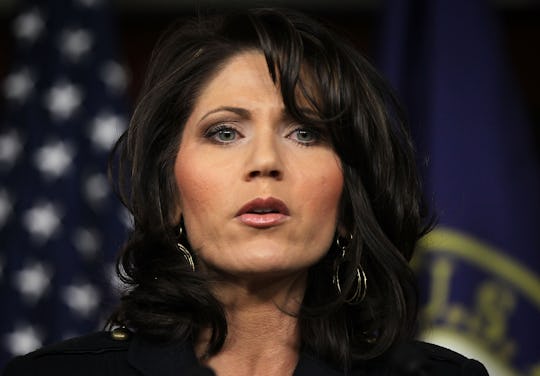 Alex Wong/Getty Images News/Getty Images
Who Is Kristi Noem? Trump Is Reportedly Considering Her For Agriculture Secretary
In between questioning the one China policy and denouncing intelligence reports that Russia interfered with the election on his behalf, President-elect Donald Trump is marching on with his Cabinet picks. Now, reportedly, he's considering South Dakota's only member of the House of Representatives, Kristi Noem, for agriculture secretary, although the potential appointment would conflict with her previously-announced plans to run for governor of her state.
Most recently, reports had stated that Trump's likely pick for secretary of agriculture was Sen. Heidi Heitkamp, a conservative Democrat from North Dakota, although some doubted whether or not Heitkamp would accept the position, given that it would leave her seat vulnerable to a Republican. But on Monday, New York Times reporter Jeremy Peters tweeted that Trump was vetting Noem, and that she would soon be making a visit to Trump Tower to discuss the position.
Noem, who was recently elected to her fourth term in the House, certainly has experience with agriculture. It's an important industry in her home state, one she worked in personally as a farmer and a rancher. Furthermore, she previously served on the House Committee on Agriculture, although she stepped down from it in 2014 to join the Ways and Means Committee, which focuses on taxes and entitlement programs. Her voting record in Congress generally aligns with that of an average congressional Republican. And fun (?) fact, she helped Tomi Lahren get her start. The controversial young conservative media star, who recently appeared on The Daily Show and is famous for comparing Black Lives Matter to the KKK, interned in Noem's office.
Noem is a climate change denier, according to the list of climate change deniers on President Barack Obama's website. So if selected to serve as Trump's secretary of agriculture, she likely would not give as much weight to environmental factors in agricultural issues as someone who believes in the generally accepted climate science.
Perhaps the major hurdle to Noem becoming agriculture secretary is that she recently announced her plans to run for governor of South Dakota. Days after winning re-election to the House, she released a video in which she listed some of her priorities for working with Trump over the next couple of years — the list included "tax reform, repealing and replacing Obamacare, a new Farm Bill, and reducing the size and scope of the federal government" — before announcing that she'd be leaving the House and running for governor in 2018.
In the video, she went on to say,
We just got through one campaign season, and we all need a break from politics. So while my campaign won't kick off officially until next year, I want you to know that I am all in.
It looks like Trump may be working to change her mind.