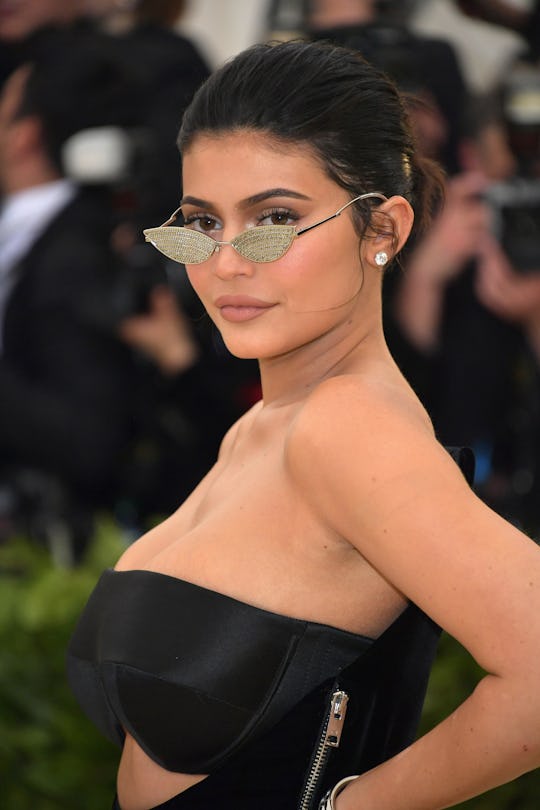 Neilson Barnard/Getty Images Entertainment/Getty Images
Kylie Jenner Revealed Who Her Roommate Is, & It Might Not Be Who You'd Expect
It's been over four months since a certain reality television star and beauty mogul became a first-time mom, and as hard as it is to believe, it's true. And so, as she basically becomes a pro at handling the mom life, people are wondering, who is Kylie Jenner living with? The new mom's roommate probably isn't who you'd expect.
Being a new mom is challenging no matter what. And whether you're a working mom, a stay-at-home mom, a celebrity mom, or anything in between, there are a lot of logistics to figure out. But for Jenner, being a mom in the spotlight just means that people are making assumptions left and right, and so the fact that she isn't living with her boyfriend and the father of her baby girl, Travis Scott, is a hot topic.
Interestingly enough, Jenner and Scott aren't living together, although they definitely seem to be happy in their relationship, and coparenting baby Stormi. But, that doesn't mean that 20-year-old Jenner has to make a long-term commitment to Scott right now. Instead, it seems as though she's committed to living with her best friend, Jordyn Woods, according to The Daily Mail that is.
Obviously, it's Jenner's right to live with whoever she wants, but it's pretty sweet that the two long-time besties are roomies.
And if you imagined that living with Kylie Jenner would be a full-on blast from the get-go, complete with makeovers and more, then you would be correct. As The Daily Mail reported, Jenner explained that she lived with Woods in a makeup tutorial video she recorded for Vogue.
"I test out most of my stuff on Jordyn because we live together," Jenner explained while expertly applying eyeshadow. "So I'm like, 'Jordyn, I need you'." The Life of Kylie star then went on to explain that "Everyone that comes in my house has tinted red arms from swatches and shadows," because she's always testing colors and playing with different makeup trends. According to The Daily Mail, Jenner lives in a mansion in Hidden Hills, next to Calabasas, where she grew up. Obviously Jenner and her best friend, 20-year-old Woods, have a blast living together, and just because the new mom isn't living with 26-year-old Scott, that doesn't mean that things aren't going well.
In fact, as a source revealed to Us Weekly, baby Stormi has actually brought her parents even closer together than before. "It's amazing how much Stormi has brought them together and brought the entire family together with Kylie and Travis," the source told the magazine. Additionally, the source said that both Jenner and Scott were taking to parenting as naturally and beautifully as possible. "Kylie is loving being a mother. Stormi is the light of her life. Travis is a great dad — he's doting on her and loves holding her. He's been really supportive, wants to be there for all the milestones. He's been moving work commitments to spend as much time as he can around Stormi."
So obviously, the two are just taking it one day at a time. And that's probably wise. In fact, Jenner herself is only somewhat thinking about the future when it comes to Stormi. Specifically, in her makeup tutorial, Jenner revealed that she wasn't really thinking about when she would let Stormi wear makeup if she wanted to. While talking about how she watched her mom do her makeup, and steal her makeup as a little girl, Jenner said, "I haven't thought about when I'm letting Stormi wear makeup." Then, she clarified, "I mean I'm gonna let her wear makeup, but when is the question."
So, no matter who she's living with or dating or anything else, one thing is certain, and it's that Jenner loves her daughter, and that's enough.