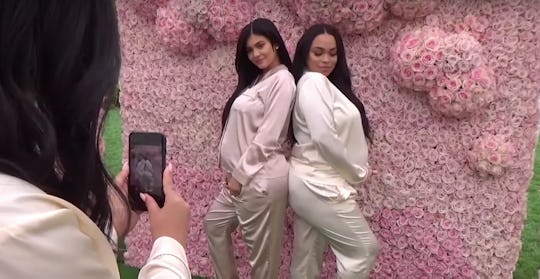 Kylie Jenner/ YouTube
Everything You Need To Know About Kylie Jenner's Friend Heather Sanders
After months of secrecy and speculation, the wait is finally over: Kylie Jenner has not only put all those pregnancy rumors to rest and confirmed she was indeed expecting her first child with her boyfriend, rapper Travis Scott, but she also announced that she's already given birth to a baby girl. The reveal came in the most touching way possible; No, it wasn't a simple photo posted on Instagram or one quick tweet. The new mama put together a lengthy montage of videos from her pregnancy, complete with messages to her new daughter from those closest to her, like Kylie Jenner's friend Heather Sanders.
But who exactly is Sanders and how far back do she and Jenner go? The 28-year-old social media star and entrepreneur is known for more than just being one of Jenner's close friends. Sanders and Jenner became friends a few years back, when Jenner was still with her ex Tyga, as Hollywood Life reported, since her fiancé, rapper King Trell, was "basically Tyga's righthand man." But they actually first met at Kendall Jenner's Sweet 16 birthday party.
According to a bio Jenner's website, Sanders is the "creator/designer/boss of Sorella Boutique," which sells anything from trendy clothes to fashionable accessories for very reasonable prices. It's safe to assume that she and Jenner have bonded over their love of fashion.
More recently, though, the two have had even more to bond over. As seen in Jenner's pregnancy reveal video, she and Sanders were both pregnant at her baby shower, posing for photos in their matching baby pink silk pajamas cradling their bumps.
"Me and Heather are four weeks apart," she says in the video. "We used to talk about this as a joke like two years ago. I was like 'Heather, your next baby... wait for me.'"
Not long after Jenner posted her video, Sanders shared a sweet shot of them at her baby shower on Instagram with a touching caption:
Congratulations To The sweetest, Loving, Most Caring person on earth! So happy we got to share this experience together! Sleep together,Eat together, Workout etc Love Having you as my pregnant sister for 9 Months! You are going to be such an amazing Mom, and your beautiful baby is the luckiest girl in the world to have you as her mother💕 You Were Made For This! I Love You So Much! Can't wait for Your Snap Back We Not Even Ready, The Most 🔥 Mama Ever!!
Sanders, for her part, appears to still be pregnant with her second child. According to Hollywood Life, she and King Trell welcomed their first child in October 2015, a "bouncing baby girl" named Zoe Skye Meeks. She often shares adorable photos of their toddler on her Instagram account, which boasts more than 1.4 million followers.
Fans might also recognize Sanders from her appearances on Jenner's reality series, Life of Kylie, from time to time. And you may have seen on social media that Jenner threw Sanders a gender reveal party for her second child a few months back.
Jenner's pregnancy and birth reveal took the world by surprise on Super Bowl Sunday. Fans have been digging for clues for months and in one fell swoop, fans now have the answers for just about everything they've been dying to know. As she revealed on Instagram, Jenner and Scott's baby girl was born on Feb. 1, weighing in at 8 lbs., 9 oz. and arrived at 4:43 p.m. local time.
"I'm sorry for keeping you in the dark through all the assumptions," Jenner wrote on Instagram. "I understand you're used to me bringing you along on all my journeys. My pregnancy was one I chose not to do in front of the world."
Fans might've been in the dark since rumors broke in September, but it's clear that she had her closest friends at her side while she went through this exciting time in her life.