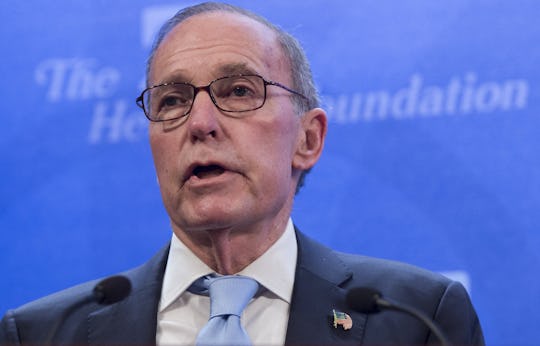 SAUL LOEB/AFP/Getty Images
Who Is Larry Kudlow? The Economist & CNBC Commentator May Get A White House Job
Keeping on the trend of promoting his campaign advisors to Cabinet members, President-elect Donald Trump reportedly plans to nominate Larry Kudlow to chair the Council of Economic Advisers, though the choice has not yet been confirmed. But who is Larry Kudlow, exactly? The former Democrat turned Republican has often appeared as a conservative, economic and political commentator, while also writing his fair share of columns.
A previous host of CNBC's The Kudlow Report for five years, Kudlow now serves the network with the title "Senior Contributor." He also currently hosts The Larry Kudlow Show — a Saturday morning radio program. Unlike some of Trump's Cabinet picks, Kudlow touts actual political experience. As his CNBC profile reminds:
During President Reagan's first term, Kudlow was the associate director for economics and planning, Office of Management and Budget, Executive Office of the President, where he was engaged in the development of the administration's economic and budget policy.
Stephen Moore, a conservative economist and a previous advisor for Trump's presidential run who shared the news about Kudlow's potential nomination, told Business Insider that he would support Trump's selecting Kudlow: "He has been the voice of the free-market conservative movement for the last dozen years," Moore said. "He's got all the connections on Capitol Hill, he knows the plan well, and I don't know anyone who doesn't like Larry Kudlow."
Still, the potential choosing of Kudlow is seen as "non-traditional" to some, given that Kudlow "doesn't hold a Ph.D. in economics, unlike former heads of the CEA," Bloomberg notes. Calling Kudlow a "bureaucrat-turned-Wall-Street-banker," Eric Walker, the deputy communications director at the Democratic National Committee, voiced his disapproval, insisting that Kudlow's valued are at odds with Trump's campaign promises.
In a revealing 1994 piece by The New York Times entitled "A Wall St. Star's Agonizing Confession," written at a time in which Kudlow appeared to be riding high on success and power, Kudlow admitted that he'd been harboring an addiction to drugs and alcohol that ultimately led him to rehab. Speaking to the pressure unearthed by a life followed closely by the media, Kudlow said he believed that, despite his addictions, he would be able to continue to work in politics.
The aforementioned Times piece also spoke largely of Kudlow's resilience and charisma. "Larry Kudlow has always had a knack for reinventing himself to adapt to the times, and the persuasiveness to make others follow him," it reads. Perhaps, then, Kudlow will reinvent himself this time around, too. Whether he reinvents so as to appease the senators voting on his status, the initial voters who elected Trump, or Trump himself, though, is yet to be seen.