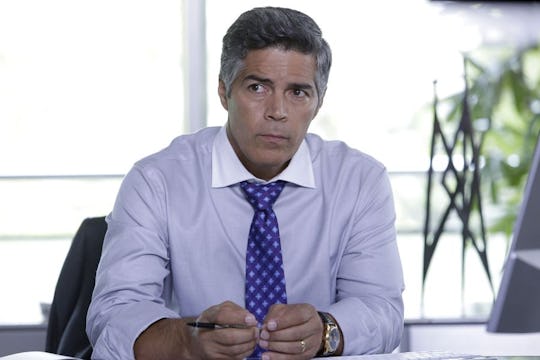 Nicole WIlder/ABC
Who Is Laurel's Dad On 'How To Get Away With Murder'? He's Into Some Sketchy Business
Season 3 of How to Get Away with Murder has already been filled with twists and turns and we're only two episodes in. Now that the show has given us more than enough questions to keep us up at night it looks like we may finally get some answers. At the end of the second episode Laurel called Frank to beg him to come back home, something Annalise wanted her to do. Then Annalise sent Laurel off to see her father but the question is why. Who is Laurel's father on How to Get Away with Murder and what does he have to do with Frank?
Esai Morales fills the role of Laurel's sketchy dad and you've probably seen him before. Morales is no stranger to the small screen. He's starred and appeared in various shows throughout the years, including Mozart in the Jungle, From Dusk Till Dawn: The Series, The Brink, Criminal Minds, Magic City, Fairly Legal, Los Americans, Caprica, Jericho, Vanished, and NYPD Blue to name a few. Although we've only seen him in one episode of How to Get Away with Murder so far it's clear Morales' character is into some bad business but what that has to do with Laurel's current Frank problem remains to be seen.
The last time we saw Laurel's father was way back in Season 1 when Laurel went back home for Christmas break. It wasn't a calm time for Laurel, although somewhat resolute for the soon-to-be lawyer. Laurel's father basically threw her out after Laurel's comments at the Christmas dinner table but Laurel left with a smile.
In Season 2, Laurel admits to Wes that the reason she and Frank had a fight/broke-up is because Frank is like her father. Laurel's father is apparently a bad person and has done some really messed up things, so much so that nothing Annalise has thrown at Laurel has shaken her. Of course this was all very vague and it's still really unclear what exactly Laurel's father does but whatever it is Annalise plans on using it. Seeing as how the last time Annalise used one of her student's father for something he ended up committing suicide, this probably won't end well.
That won't stop Laurel from reaching out to her father in Thursday night's episode of How to Get Away with Murder though. Hopefully we'll finally start to get some real answers about Laurel's past and maybe even find out where Frank is hiding.