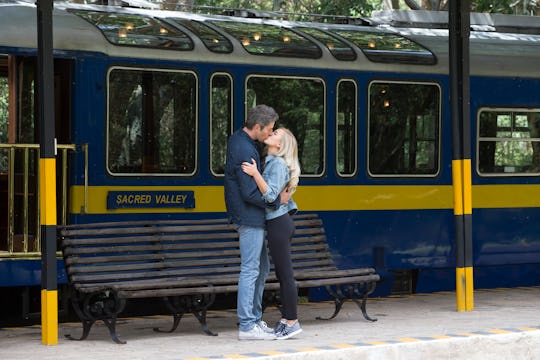 Paul Hebert/ABC
Lauren B.'s Post-'Bachelor' Love Life Will Be A Big Topic Of Conversation On 'After The Final Rose'
On Monday night's bombshell episode of The Bachelor, Chris Harrison finally proved that he wasn't kidding around when he said it was the most dramatic finale ever. Arie got engaged to Becca and then weeks later ended their engagement with a full camera crew recording the whole thing — because he still had feelings for Lauren B., his runner-up. So right about now you're probably wondering who is Lauren dating now after The Bachelor? Well, the big reveal about whether or not these two are currently together is still to come, but all signs point to... yeah, she's probably dating Arie.
At the end of their 10-week Bachelor journey, Arie finally decided to say goodbye to Lauren and propose to Becca. Lauren was clearly crushed and absolutely shocked. She told Arie she was extremely confused — which is understandable considering he had been telling her how much he loved her the day before. He also said that he hadn't been sure until that morning. In her teary-eyed limo interview Lauren said that she didn't understand how someone who wasn't sure until three hours previously could propose to anyone. It turns out she was right, and Arie broke up with Becca a few weeks later in order to pursue a relationship with her. So are they together now?
Lauren has been extremely careful with her social media accounts and hasn't given any hints that she's in any relationship at all (except the one we saw on The Bachelor with Arie). She rarely tweets at all, and her Instagram account is filled with happy and often professional photos of herself or with Arie. The only hints as to what she's feeling come from her captions. In one post with a photo of herself shaking her hair in the sun she wrote, "Shakin' off the haters." On the night of the finale she posted a picture with the caption, "Thinking about tonight...More wine please," which I think is not at all dissimilar to what viewers were thinking.
Arie admitted when he broke up with Becca that his primary reason for doing so was because he was still in love with Lauren and wanted to pursue a relationship with her. Presumably everyone will find out on Tuesday's final finale whether or not they actually got together in real life. As for right now, they're not explicitly spoiling it. But it definitely looks like they're together.
Though she may not know everything about it, for what it's worth it seems like Becca herself assumes that they are together. In an interview with People, she explained that though she thinks Arie handled everything poorly, she doesn't blame Lauren, and assumes the two of them are together now. She said:
I do feel a little bad that it's going to be really tough for them when all of this is said and done. Social media is a hard world to navigate through, and there's going to be a lot of negativity and I don't think she deserves that. If they want to make it work, then they will, and I hope they're strong enough to get through it all.
This proves, once again, that Becca is a class act through-and-through. She also said, "They're going to be together and do their thing. I wanted to move on and have my person that I can focus on and live my life with," while adding that she forgives Arie.
It seems pretty clear that Arie and Lauren are, in fact, together at this point, but you'll just have to watch Tuesday night's After the Final Rose special to find out for sure and if so, how it all went down.
Check out Romper's new video series, Romper's Doula Diaries:
Watch full episodes of Romper's Doula Diaries on Facebook Watch.