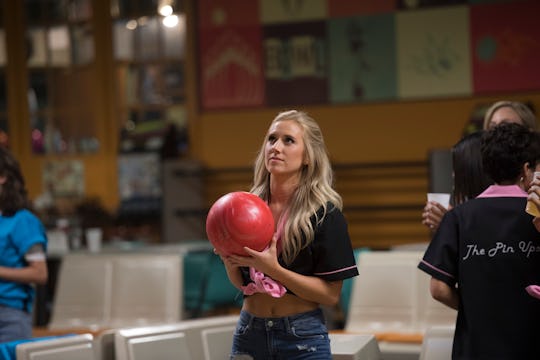 Paul Hebert/ABC
Lauren B. Is The Only Lauren Left Standing On 'The Bachelor'
Bachelor fans started out with four, but now we're down to just one single Lauren. Since we spent so much of the first few episodes trying to figure out if Bekah would ever reveal her age or if Krystal was really the villain, it feels like this last Lauren standing sort of came out of nowhere. Don't worry, though. If you're wondering who Lauren B. on the Bachelor is, you're not alone.
The 25-year-old is from Virginia Beach, but now lives in Dallas, and works as a tech salesperson. It looks like she and Arie actually have a ton in common: They're both really basic, but in a good way. Really, all Arie talks about on his dates is how he's such an "old man" and goes to bed early and doesn't do much. It's why he's kind of concerned about someone like Bekah who still seems to have a lot of partying left in her.
Although Lauren B. isn't all that much older, she seems more Arie's type. For example, in her ABC bio, she calls herself "so basic" for listening to Taylor Swift and wanting to be Elsa from Frozen. She says her biggest pet peeve is texting at dinner, which doesn't seem like something Arie would do, and the biggest law she'd break would be to drive as fast as she wants. The most unusual thing about her is that she takes coconut milk with her coffee. Which hilariously seemed to spook Arie a bit. See? She may be just what Arie is looking for.
Lauren B. might actually have a shot, this season. Sure, she didn't get a lot of screen time in the very beginning, but she keeps popping up more and more. After scrolling through her Instagram feed, too, I'm starting to think she might be a finalist if not the actual winner.
Before the show, when contestants are forced to stay away from social media, Lauren B. was pretty active when it came to posting pics about her personal life. She had selfies with friends and family — all the usual activity. But since filming ended and the show began, it's mostly all pictures from the set or screengrabs of the show. Which could be a sign that she's laying low on social media so she doesn't give anything away about outcome.
People are really feeling her on social media, so if she doesn't win the whole thing, she's a strong contender for the next Bachelorette. Even if people can never figure out which Lauren is which on the Bachelor, despite the season.
Arie told People that things get pretty heated by the end of the season, saying that he "fell in love with two women, and I didn't know I was capable of that. I've never been in that situation, and it was really hard." He added:
And they were two very different women, and that's what made it even harder. I didn't know I was really capable of having strong feelings and being in love with more than one person, but that happened. The end was really difficult for me. And I think that it's because it's such a huge decision, and it's my life. But I'm happy, and I wouldn't have changed anything.
If she did win, she'd be the second Lauren B. to win the show. Lauren Bushnell, you might remember, ended up with Ben Higgins. They were together for a while, too, before finally splitting up. This season's Lauren has the right name, the right gorgeous hair, and the fact that she lives in Dallas like Rachel Lindsay makes me think that it's pretty much a given that she wins or is one of those two women Arie falls for. The Laurens always sneak up on us, so I'll be interested to see how this all plays out.
Check out Romper's new video series, Romper's Doula Diaries:
Watch full episodes of Romper's Doula Diaries on Facebook Watch.