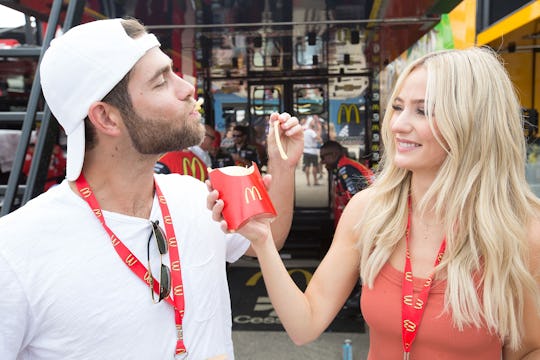 Jeff Schear/Getty Images Entertainment/Getty Images
Everything 'Bachelor' Fans Should Know About Lauren Bushnell's New Boyfriend
Do you guys remember that scene in the movie Elf when Will Ferrell as Buddy comes running into the room and he screams, "I'm in love! I'm in love! And I don't care who knows it!"? Well that is what former Bachelor contestant, Lauren Bushnell, has been doing all over her Instagram page. So who is The Bachelor's Lauren B. dating?
In the past several months, this guy has been the subject of innumerable cutesy Instagram posts by Lauren, though his own Instagram page appears to be set to private. (Boo!) In August, a few months after the big announcement that Bachelor Ben Higgins and Lauren B. had broken off their engagement, multiple outlets announced that Lauren had "debuted" her new boyfriend Devin Antin on Instagram. While I am absolutely obsessed with the idea that you can "debut" a person, even I have to admit that her near constant posts about this guy right from the jump seem to indicate at least some kind of message. If I had to hazard a guess about the message, I would say it says something along the lines of: "I am extremely happy and in love and have moved on with my life, thanks." Lauren's Instagram has also been thoroughly scrubbed of anything Higgins-related.
But despite my very best snooping, there is very little information out there about Lauren's new guy, except what she posts herself. TMZ reported that he is a 28-year-old real estate investor from L.A., which was published alongside paparazzi photos of the two of them in Maui. These images later appeared on Lauren's own Instagram. However the outlet also claimed that the two had been friends before Lauren went on Ben's season of The Bachelor. This proved to be true when Lauren confirmed that she and Devin met on Tinder during a Q&A with fans on her Instagram account back in October.
"So, two years ago we met on Tinder. Yes, Tinder," Lauren revealed, adding:
I don't think I've shared before but I only met up with one person from the app and it was him. We hung out for a while but more as friends but always got along really well. Fast forward two years later when I moved back to L.A. we hung out to catch up and things just kinda happened after that.
Based on the video above, it looks as though Devin's birthday is on or around the date of October 17, since that is when Lauren threw him a surprise party for his birthday. In the caption of the video she wrote, "Thanks for letting me be your friend and girlfriend be being born in general. You make me the happiest ever and you deserve the world not just today but every day!" Among the other details I've been able to gather, Devin is apparently a Dodgers fan appears to be an all-around good guy.
Editor's Note: The Instagram post has since been deleted.
As for what Lauren's ex-fiancé thinks about the whole thing, Ben has been extremely gracious and mature when talking about her. He admitted to Us Weekly that though the breakup was hard on him and it was hard to see her with somebody else, he truly just wants the best for her and for her to be happy. "From what I understand and from what I hear, she's happy. As hard as that is for me to think about," he said, continuing to tell a story about going on a run and having something of an epiphany. "I just stopped and I thought, 'If you're the man you claim you want to be, which I'm not always, then you need to celebrate Lauren being happy and you need to do that well and you need to mean it when you say it.'"
Well now that Ben is on The Bachelor Winter Games maybe his time is coming up next. I can't wait to see if he falls in love once again on this show.