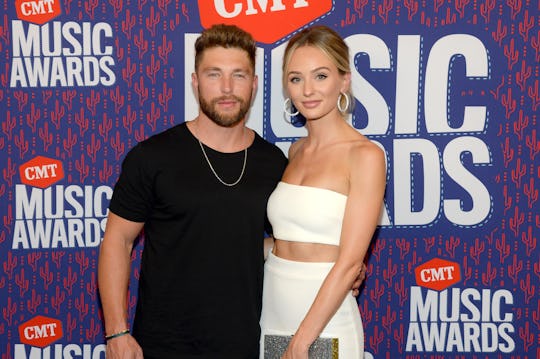 Rick Diamond/Getty Images Entertainment/Getty Images
'Bachelor' Alum Lauren Bushnell Revealed She's Engaged To Chris Lane
Bachelor alum Lauren Bushnell announced her engagement to Chris Lane Monday, less than a year after taking their relationship public, as People reported. The news is thrilling for many #BachelorNation fans, and now some people are curious about who Lauren Bushnell's fiancé is and what he does for a living. As it turns out, Lane is a rising country singer who had his eyes on Bushnell long before they started dating.
If you're a fan of The Bachelor, then there's a good chance you already know Bushnell from her days as a contestant on Season 20 of the show. Bushnell, who was a flight attendant at the time, competed against other women for the heart of Ben Higgins, who she became engaged to at the end of the show. But that romance ended in May 2017, and Bushnell later went on to date an old flame named Devin Antin. That relationship fizzled out in August 2018, a heartache which led Bushnell into the arms of Lane about three months after the split, according to Us Weekly.
Following a whirlwind romance, Lane proposed to Bushnell in the backyard of her childhood home on Father's Day, People reported. How sweet, right?
Lane said he wanted to keep the proposal low-key for Bushnell, telling People:
I knew she wouldn't want some elaborate crazy proposal. So, I decided to keep it pretty casual. I asked her parents for different places in Portland I could potentially take her to, but after a lot of thought I decided doing it at the family cookout would be the most laid-back setting and that she'd appreciate the simplicity of me proposing to her in her parents' backyard.
Sounds like Lane knows his leading lady quite well.
But just when you thought the proposal couldn't get any cuter, Lane revealed that he wrote a song and made a freakin' music video to pop the question. The choice was fitting for Lane, a rising country star who is currently on tour with Brad Paisley.
The song, titled "Big, Big Plans" is chock full of sweet lyrics, and the video shows their most adorable moments together. Lane played it for Bushnell in front of her family, and towards the track's end, he got down one knee.
"Baby, you're the best thing to ever happen," he can be heard saying, according to Entertainment Tonight. "You've brought out a lot of things inside me that I didn't even know existed. And I have to spend the rest of my life with you. Will you marry me?" Aww.
Of course, Bushnell said "yes," and now the two are officially engaged. The couple already live together in Nashville, where Lane is busy pursuing his music career.
As for what Bushnell thinks of her guy's music, she has always been a big fan. And Lane often relies on her for inspiration, telling People: "[She] will definitely play into the kind of songs that I write, 100 percent. I'm finding ways to always be creative and try to write the best songs."
Yep, these two sound like a perfect match. Congrats to the country crooner and Bushnell.