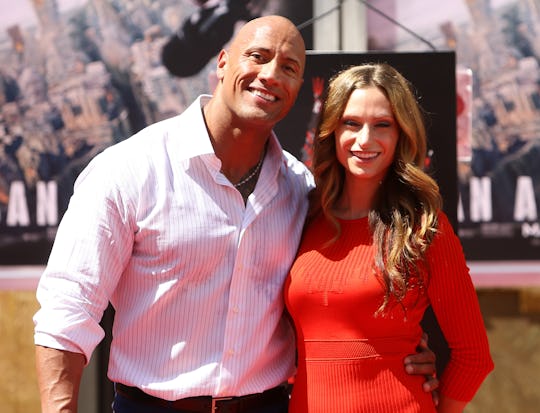 Who Is Lauren Hashian? She & Dwayne "The Rock" Johnson Just Had Their First Baby Together
Dwayne "The Rock" Johnson's deeply adorable Instagram post about the recent birth of his daughter is melting hearts all over the internet. Everyone knows who The Rock is, but who is Lauren Hashian, the mother of Johnson's baby and his girlfriend of nine years? Though the couple have been together for a long time, Hashian, 31, mostly stays out of the spotlight, and she doesn't frequently accompany Johnson to his public appearances, according to IMDb.
Turns out Hashian is a singer-songwriter who's no stranger to fame — her father, John 'Sib' Hashian, was the drummer for the classic rock band Boston, according to Hollywood Life. You can listen to Hashian's music at her Soundcloud page. Hashian met Johnson in 2006 on the set of The Game Plan, which he was starring in, according to Hollywood Life. At the time, The Rock was married to his first wife, producer and professional body builder Dany Garcia, who he has a 14-year-old daughter with. The couple divorced in 2007, and soon after, Hashian and Johnson were official.
They seem to be a pretty happy couple, too. In a recent interview with Esquire, The Rock called his home life "solid," and he talked about the importance of balancing a career and spending time with family. This family-mindedness is certainly reflected in Johnson's detailed Instagram post about Jasmine, his newborn daughter. The Rock tells his followers:
Kinda crazy but in this cool and powerful skin to skin bonding moment with my newborn baby Jasmine, I had just one wish I asked the universe... Give me the strength to be a better man today than I was yesterday.
Adorable, right? Perhaps characteristically, Hashian hasn't posted anything new to social media since the Dec. 16 birth of her little girl, but she did post last week, including a picture of her and Johnson along with a comment that she hopes a big daddy doesn't equal a 20-pound baby. Word.
Hashian also posted about the couple's baby on Instagram when she was pregnany, according to E! Online:
So grateful and in awe of this time. To experience creating a little life is just incredible. This beautiful cycle of life and womanhood beginning again. And like Big Daddy says - Couldn't be prouder of all the kickass women she's going to have around her! And Men of course ;)...
From the photo Johnson shared, it doesn't look like the baby was 20 pounds, thank goodness.
Image: Michael Tran/Film Magic/Getty Images