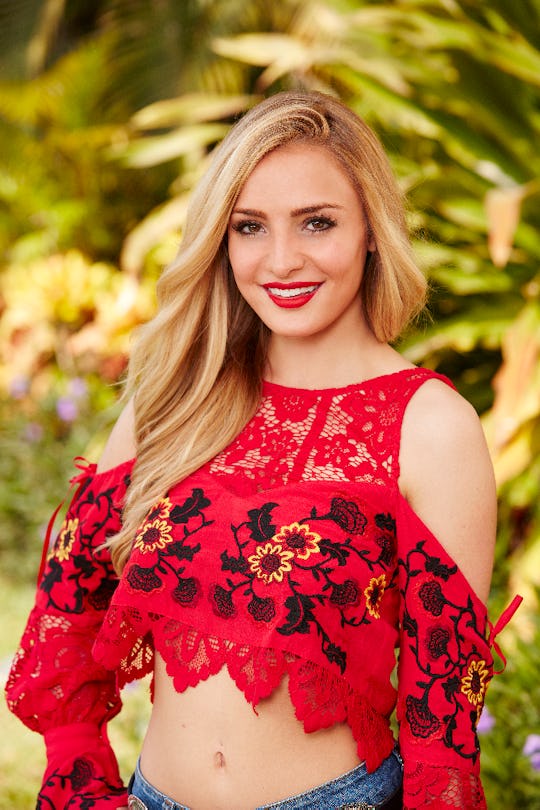 Craig Sjodin/ABC
Who Is Leah Block On 'Bachelor In Paradise'? The 25-Year-Old Is Ready For Love
With The Bachelorette at an end, former contestants from all across Bachelor Nation are migrating south to the sunny beaches of Mexico for Season 3 of Bachelor in Paradise, in the hopes of finding love. On the season premiere, we met the initial group of cast members and saw things heat up pretty quickly (to put it lightly). But, as we know, the drama is only just beginning – new contestants are arriving each week to shake things up. One of the new arrivals officially confirmed by ABC is Leah Block. But who is Leah Block on Bachelor in Paradise?
The blonde beauty is a cast-off from Season 20 of The Bachelor, in which she vied for Ben Higgins' affections against women including Lauren Bushnell (a.k.a., the future Mrs. Higgins) and future Bachelorette JoJo Fletcher. Ben's season definitely had a great group of women – it seems like nearly all of them (minus Lauren B. and JoJo, obviously) are showing up in Paradise this year.
While we don't know very much about Leah (she wasn't particularly memorable during Ben's season, aside from one negative moment), there are a few things we do know for sure about her ahead of her arrival in Mexico.
She Was A Minor Villain During Season 20
While nobody could possibly top Olivia Caridi as the villain of Ben's season, Leah had her own scandal while in the Bachelor house. She's probably best known for throwing then-frontrunner (and future winner) Lauren B. under the bus by attempting to plant seeds of doubt about her in Ben, after Leah didn't get a one-on-one date during Week 6. Leah had a little bit of a meltdown because she felt that Ben wasn't trying to get to know her, and said meltdown led to the drama with Lauren B.
...But She Was Really Apologetic About It
Leah seemed to know what was coming when Week 6 aired earlier this year. She was super apologetic about her behavior. She also spoke out about the amount of editing that goes into the show, to make people look worse than they actually are to heighten the drama. That's fair, and very true.
She Loves Her Dog
She has the most adorable black poodle! The cute dog is all over Leah's Instagram account, and I can't blame her. Cutest pup ever.
She's A Denver Native
Is Colorado turning into the new Texas for Bachelor Nation producers? So many memorable contestants and stars have been from Colorado in recent season. Third-place Bachelorette finisher Chase McNary is from Colorado. Ben, though not a native Coloradoan, currently lives in Denver with his future wife and actually almost ran for a state House seat there. Lace Morris, Season 20 alum and fellow Paradise co-star, is also from Denver.
She's An Event Planner
According to Leah's LinkedIn profile, the Colorado State University 2012 grad was an event and meeting planner at The Bastian Group until April 2016. Currently, her LinkedIn header indicates that she's "seeking a career in the creative marketing field.
She's Good Friends With Other Bachelor Alums
Leah's Instagram is filled with photos of her hanging out with other contestants from her season, long after filming wrapped. In particular, she seems to be good friends with Amanda Stanton (even celebrating New Year's with her!) and Jubilee Sharpe, who are both appearing in this season of Paradise as well. So odds are Leah will fit right in with the existing group when she arrives!
It remains to be seen whether Leah will make a name for herself on Paradise this season (aside from "Girl Who Threw Lauren B. Under The Bus"), but my fingers are crossed for her!