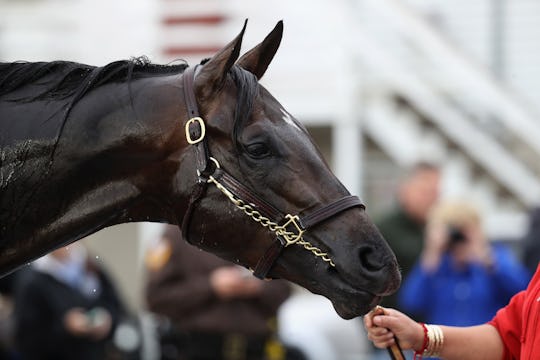 Rob Carr/Getty Images Sport/Getty Images
Who Is Leah Gyarmati, The Only Female Kentucky Derby Trainer? Her Career Is Impressive
The Kentucky Derby is a big event in the horse racing world, and is known perhaps just as much for fashion and mint juleps as it is for the horses themselves. Although horse racing has traditionally been a male-dominated sport, women have most definitely been leaving their mark through the years — as owners, jockeys, and trainers. Who is Leah Gyarmati, the only female Kentucky Derby trainer with a horse in this year's lineup? She's worked hard to build a career where her gender doesn't stand in her way.
According to US Racing, Gyarmati started out riding show horses, and eventually found her way into racing as a teen, when she landed a summer job as a hotwalker for famed horse trainer H. Allen Jerkins. She became a jockey for three years back in the late '90s — during which time she won 15 races — and then graduated into horse training, where she's remained ever since. This year, her horse Adventist is currently sitting at the No. 22 spot on the Kentucky Derby leaderboard, and was named one of the "names to know" by the Louisville Courier-Journal ahead of the Derby, which kicks off at Churchill Downs on Saturday.
According to an interview in North American Trainer, Gyarmati said she's become accustomed to the frustrating reality of being talked down to or objectified for being a women in an industry full of often-older men, but said that being called names like "babe" or "honey" (ick) isn't really what ticks her off. She told the magazine:
[It] bugs me, but not nearly as much as someone thinking I can't do as good a job as a man.
By this point though, Gyarmati said she's proven her own success well enough that most of the men she works with don't feel threatened and know that she's more than able to do her job well:
I've got a great camaraderie with all the other trainers and the jockeys and the owners...I don't think they feel like they're settling for less. I'm sure there are some that don't think women are capable, but I think we've kind of moved on from that era.
Above all, though, it's clear that Gyarmati's love of horses — and animals in general — is what really keeps her going despite the still-significant gender imbalance that exists in racing. Gyarmati is a vegetarian who argues that humans shouldn't just eat meat because we can, and she feels very strongly about protecting and caring for horses even after they've reached the end of their racing careers. But surprisingly, it's not just horses she cares for diligently — Gyarmati also rescues squirrels on the regular, nursing them back to health, and treating them more or less like family pets. She told North American Trainer,
I love them. I know, I'm a little obsessed. I'm the crazy squirrel lady on the block.
But, of course, Gyarmati isn't the first woman to leave an important mark on the horse racing scene. There have been eight female jockeys riding horses in the Kentucky Derby since Diane Crump in 1970, according to the Washington Post, and according to the Kentucky Derby's website, the role of women in its history goes as far back as 1904, when Laska Durnell nominated her horse, Elwood, to the Kentucky Derby — the first starter and winner owned by a woman. And aside from Gyarmati, three other female trainers have had horses run in the Derby over the years.
As for Gyarmati and Adventist, how this year's event will play out is anybody's guess. But from the sounds of it, Gyarmati won't be throwing in the towel anytime soon, and this probably won't be the only time we see her name pop up at the Kentucky Derby.