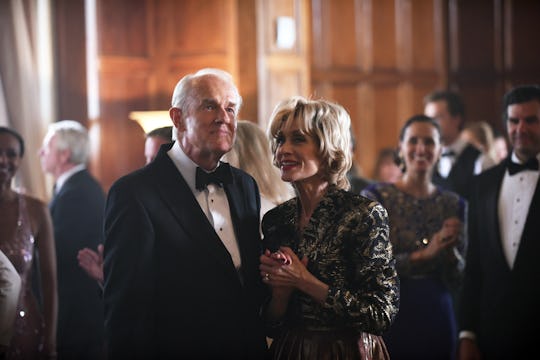 Matt Dinerstein/FX
Everything You Need To Know About Lee Miglin Before Watching 'The Assassination Of Gianni Versace'
The third episode of The Assassination of Gianni Versace will delve into Andrew Cunanan's third reported murder, that of real estate tycoon Lee Miglin. The crime is perhaps Cunanan's most perplexing, and unfortunately learning who Lee Miglin is on The Assassination of Gianni Versace doesn't lend any clarity to Cunanan's motivations. There are many theories about why Cunanan killed Miglin, and it seems as though this week's episode "A Random Killing" will explore those possibilities.
Lee Miglin was a prominent real estate developer in Chicago, where he lived with his wife Marilyn in a large house in the Gold Coast. Marilyn was a successful businesswoman herself, owning a cosmetics and perfume company that did very well on the Home Shopping Network. Lee and Marilyn had two children, Marlena and Duke, and had been married for nearly 40 years at the time of Lee's murder, when he was 72 years old. No one else in the family was present at the house on the day Lee was killed because the children were grown and Marilyn had been away on a trip. His body was discovered upon her return.
Lee Miglin's murder was one of Cunanan's most violent, according to details reported in Maureen Orth's Vulgar Favors, an exhaustive account of Cunanan's crimes and the basis of which the FX series is based. Miglin was bound and his face wrapped mask-like in tape, except for a small portion around his nostrils that allowed him to breathe. He had been badly beaten and then stabbed, with either a gardening tool or a screwdriver. His neck had been almost completely severed using a bow saw. Then he was covered and left half-hidden in the Miglin family garage. Cunanan escaped in Miglin's Lexus.
But the bizarre details didn't stop there. Part of what had alarmed Marilyn Miglin when she returned home was that things seemed out of sorts in the house. The gate, which was normally closed, was open. There was an open container of ice cream on the counter and upstairs a ham with a knife in it sat on a desk. The bathtub looked as though someone had used it and there were dark beard clippings in the sink (Lee Miglin's hair was gray). Some of the family's property was missing as well, according to The Chicago Tribune, and in Vulgar Favors it was revealed that Cunanan accessed Miglin's safe. Not only had Cunanan killed Miglin, but he had made himself comfortable in the house.
That was one reason why people began to suspect a connection between Cunanan and Miglin. One theory was that Cunanan was friends with Miglin's son Duke, who was a young actor known to travel to San Diego (where Cunanan lived) semi-regularly, according to Vulgar Favors. In the book, Orth also reported that people close to Cunanan remembered him mentioning a rich family in Chicago whom he was friendly with. One friend, Ron Williams, was quoted as saying the following:
Andrew said he had an investor by the name of Duke in Chicago. He said he didn't know what he wanted to do but this good friend was willing to help him — to back him in business when he decided to go into business. He never said there was a relationship, but a good friend, very successful in Chicago.
Cunanan's father Modesto (known as "Pete") said he had heard something similar from Cunanan. "First he met the son in New York and then the son took him home for a weekend — it was for some holiday," Pete told Orth. "He mentioned what an impressive family they were." In Vulgar Favors, two acquaintances of the Miglins remembered Duke bringing a friend on a family vacation who they recognized as Cunanan after seeing a picture of him, but they "could not swear to it in court."
However, information gleaned from Cunanan himself through secondary sources isn't entirely reliable, especially as Cunanan wasn't known to be honest. An acquaintance named Tim Barthel told the New York Daily News that Cunanan was "a bullsh*t artist, a compulsive liar. We all knew it."
Another possibility raised was that Lee Miglin was a closeted gay or bisexual man and that he had possibly solicited Cunanan for sex, as Cunanan was an escort. In Orth's book, another sex worker referred to as "Daniel" recounted being hired by two men named Lee and "Todd" on two occasions. He felt the men were Miglin and Cunanan. Orth also reported a neighbor of the Miglins named Betsy Brazis who saw Lee the weekend of the murder "with a young man with dark features wearing a baseball hat. I couldn't see the faces. It had to be dark." During his spree, Cunanan often wore a baseball hat, but many young men do.
Harper's Bazaar noted that there was no sign of forced entry in the Miglin home either, but that doesn't necessarily mean Miglin knew Cunanan and let him in. Cunanan did have a gun at that time, and Miglin's business partner Paul Beitler told Orth in Vulgar Favors, "Lee always said if anybody tries to rob you, give the person what they ask for and never trigger him, never give him an opportunity to shoot you."
Despite all the speculation, the Chicago Tribune reported that the police called Miglin's murder "a crime of opportunity" and nothing has ever been officially proven otherwise. The Miglin family have always stridently denied that any of them knew Cunanan, with Duke telling ABC 7 Eyewitness News in 2017, "There was no relationship whatsoever. A lot of false things were brought up and they were very hurtful, very painful, for me personally and there were attacks on me as well that I really didn't appreciate. And I still don't."
The Assassination of Gianni Versace tackles one interpretation of the story, but the only people who really know the truth are Lee Miglin and Andrew Cunanan, neither of whom are alive now to divulge it.
Check out Romper's new video series, Romper's Doula Diaries:
Watch full episodes of Romper's Doula Diaries on Facebook Watch.