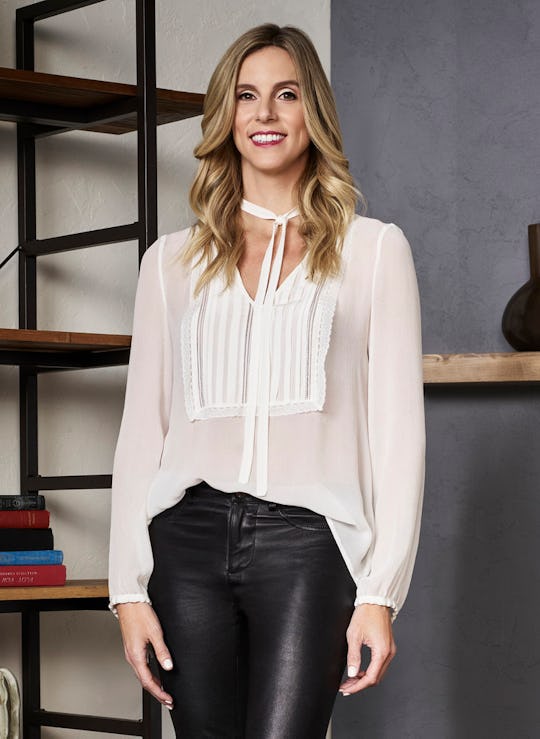 Tommy Garcia/Bravo)
Fans Will Love Lee Murphy On 'Sweet Home Oklahoma'
Bravo is kicking off another reality project down south (well, technically, the midwest) whose cast members hope to give their home state a makeover in the eyes of Sweet Home Oklahoma's viewers. The show's four stars are longtime friends living in Oklahoma City whose progressive values fly in the face of stereotypes about the red state. Angie "Pumps" Sullivan, Jennifer Welch, Josh Welch, and Lee Murphy all live in the affluent neighborhood of Nichols Hills, boasting some of the fanciest real estate in Oklahoma. So who is Lee Murphy on Sweet Home Oklahoma? She's actually the cast member who's spent the most amount of time outside Oklahoma.
While she was born and raised in Oklahoma City, Lee moved away for college, attending the University of Virginia in Charlottesville. She then spent her 20s on both coasts in San Francisco and Boston before moving back to Oklahoma City after the birth of her first son in 2004. According to her Bravo bio, "Lee is extremely close with her family and knew she wanted to raise her children in her hometown."
She gave birth to twin boys in 2006 and — fun hereditary fact! — Lee herself is also a twin! She works in medical sales and, since she's divorced, it looks like a significant chunk of Lee's storyline on the show will be how she ~navigates the world of online dating~.
Like her castmates, Lee is a staunch Hillary Clinton supporter and her Instagram features an election morning-after post declaring that she's #StillWithHer. In fact, she attended the Women's March on Washington this past January alongside Jennifer Welch, whose house Lee refers to as her home away from home.
And between trips to Napa Valley with her sorority sisters, jaunts to Los Angeles with Jennifer, and family trips to Costa Rica, it definitely seems like Lee has the jet-setting lifestyle of a Bravolebrity in the making. In fact, her Bravo bio states, she "makes it a point to take [her sons] on as many adventures as possible." Unsurprisingly, the whole family is a die-hard football fan of the University of Oklahoma Sooners. All three of her sons play football, so perhaps there's a little college ball player grooming happening? But Lee also seems to be able to hunker down with her inner nerd, as one truly stunning Instagram post featuring her in a Daenerys Targaryen wig for a family Game of Thrones viewing party last season proves.
Mostly, it seems as though Lee will bring balance to the cast as the one who has spent the most time away, but she obviously has very strong roots in Oklahoma City. The series premiere of Sweet Home Oklahoma airs on Monday, March 20 on Bravo.