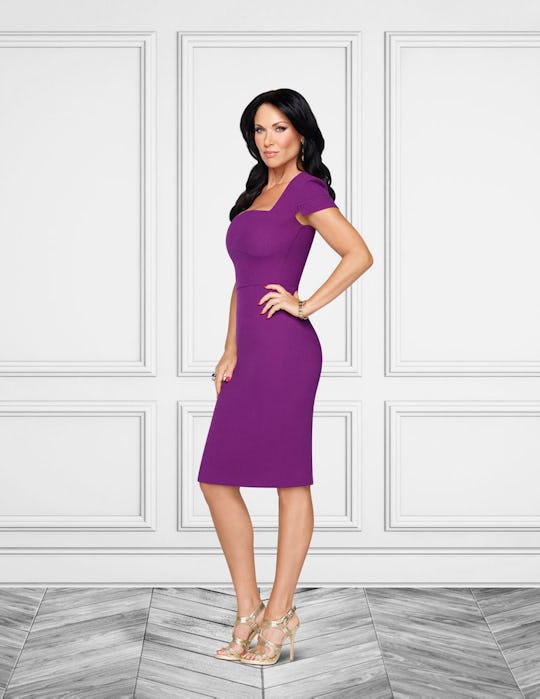 Michael Larsen/Bravo
Who Is LeeAnne Locken? The 'Real Housewives Of Dallas' Star Is Perfect For The Series
Bravo returns to one of its favorite reality show backdrops for its latest addition to the Real Housewives franchise with the premiere of Real Housewives of Dallas on Monday, April 10. One of its new stars, LeeAnne Locken, has all the makings of a classic Real Housewife: ex-pageant queen, close friends with another Bravolebrity (in this case, Most Eligible Dallas' Courtney Kerr), and charity benefit-thrower extraordinaire. So who is LeeAnne Locken on the Real Housewives of Dallas? Well, she kind of does it all, with stints in modeling, acting, media consultation, hosting, chairing nonprofits, and book writing.
The RHOD star has humble beginnings, as her Bravo bio points out: "She grew up in the carnival circuit," but her life has involved many more serious elements, too, which she isn't shy about sharing. Her Instagram bio promises, "Everyone agrees- I am NOT boring!" which is a not-so-subtle self-promotion against getting axed after one season for...being boring. But it seems like — based on the sheer volume of charities she either sits on the board for or emcees — she's definitely in positioning herself in the right places at the right times to be part of some good old-fashioned gala brawls.
She's Involved
LeeAnne seems to go above and beyond helping local charities and philanthropies. Her Bravo bio states that she is involved with Legacy Counseling, SPCA of Texas, The Fashionistas, AIDS Services Dallas, and the Design Industries Foundation Fighting AIDS.
She Has Overcome A Lot
A local Dallas blog profile of LeeAnne delves into her tumultuous childhood, with a history of parental abandonment and sexual abuse. According to the post:
She's battled depression, low self-esteem and insecurity and even tried to take her life at one point, but says instead of letting her past beat her down, she's made "her mess her message" and focuses on using her experiences to help others avoid and overcome the same circumstances she faced.
It's not yet clear whether her past will be highlighted on the show, but she certainly has a great platform at her disposal, should she choose to open up about what the profile suggests.
She Has Quite The Resume
Locken managed a handful of modeling and hosting/anchoring gigs, mostly on local Dallas TV, but her big break seems to stem from landing in the Top 10 at the 1989 Miss USA pageant. After that, she had a cameo appearance (as a blonde!) in Miss Congeniality (talent: making balloon animals), and landed on the 2009 TVLand modeling competition series She's Got The Look, where, incidentally, she was told that her personality was "too big" for her to be tolerable to work with.
She Is Friends With Other Bravolebrities
RadarOnline reported that LeeAnne is friends with Courtney Kerr of Bravo's Most Eligible Dallas, and here you can see her hanging with one of the most well-known Housewives of all history, Nene Leakes.
She Has A Book Based On Her Facebook
One of the things to come out of LeeAnne's past was apparently finding her calling as an "inspiration guru." She became somewhat well-known for her inspirational Facebook posts, which she eventually compiled into a book called What's Your Status?
Her Boyfriend Is Also A Reality Star
LeeAnne reportedly lives with her boyfriend, Rich Emberlin, who just so happens to be a fellow reality star. He's a police officer who appears on the A&E series Dallas: SWAT.
It goes without saying, but it seems like LeeAnne is the perfect candidate for a role on the Real Housewives franchise.