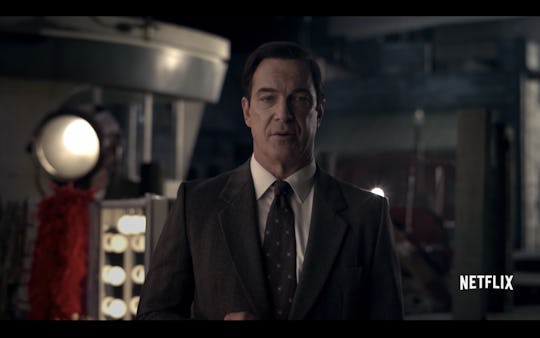 Netflix
Who Is Lemony Snicket In 'A Series Of Unfortunate Events'? Patrick Warburton Won The Role
If you're ever rolling your eyes thinking about the bad day you're experiencing, just read a chapter from Lemony Snicket's A Series Of Unfortunate Events. Once you do that, you will instantly rethink your concept of a bad day. We've already seen the misadventures of the Baudelaire orphans jam-packed in 2004 with A Series Of Unfortunate Events. But now we can watch Violet, Klaus, and Sunny's misfortunes laid out more episodically, like the books, through the upcoming Netflix series. We've all been acquainted with the kiddies on screen before, but never Lemony Snicket... until now. So as you raise your spyglass to your eye, and ask who is Lemony Snicket in A Series of Unfortunate Events? I'll tell you.
Lemony Snicket is the pen-name of author Daniel Handler. In the book series, Snicket plays historian and narrator to the children's miseries. In the forthcoming streamable series, we see Snicket played by Patrick Warburton.
Warburton is a great choice for the chronicler's role since his voice can be associated with his detective role in Hoodwinked!, and comical, yet diabolical one as Kronk in Disney's Emperor's New Groove. Both movies detail unfortunate events, indeed. As we have seen in these movies, Warburton's voice is somehow capable of delivering "whimsical cruelty" and bad news without the blow to the stomach it's usually accompanied by. This stern but lighthearted actor is just the man children need when being fed the series' traumatic, unfortunate events. Think being spoon-fed doom and gloom, but with comedic airplane noises.
During the episodes, Snicket will be sure to tell the tale of Count Olaf (Neil Patrick Harris), who we hear laugh in the background of the trailer. This is another example of excellent casting for the kids show. Harris can be maniacal, but also quirky enough that nightmares won't be an issue for younger fans.
During the episodes, relentless mastermind, Olaf, will do whatever it takes to get his hands on the orphan's inheritance, including killing. What's more is the author will tell viewers about the conspiracy surrounding the Baudelaire family. I hope you still have that spyglass handy.
If you have yet to read the literary series, I would get cracking, considering there's 13 of them. Don't give me that look! They're worth it. Trust me.
Once you do that, rewatch the trailer and find all the subtle goodies splayed about within it. But like Snicket warns in his series, "if you are interested in stories with happy endings, you would be better off reading some other book."
All episodes are released Friday the 13th of January. Sigh. My greatest unfortunate event is having to wait that long.