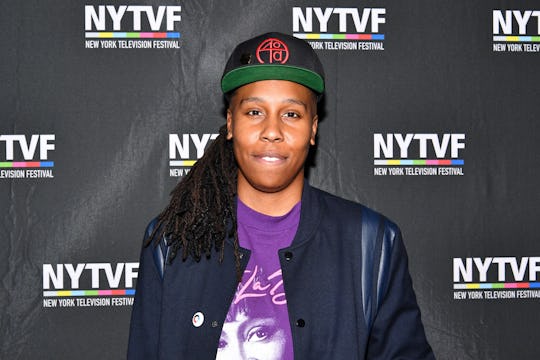 Dia Dipasupil/Getty Images Entertainment/Getty Images
MTV Trailblazer Award Recipient Lena Waithe Champions Underrepresented Voices
On Monday, MTV will host its annual Movie and TV Awards, a ceremony commemorating the best entertainment of the year. And similarly to many other award ceremonies out there, the MTV Movie and TV Awards will give out special honors to deserving attendees. One of those coveted honors is the Trailblazer Award, an award given to "game-changing creators with fresh and fearless voices in entertainment," according to Deadline. As for who will receive the honor in 2018, look no further than Master of None actress Lena Waithe. Although Waithe is pretty revered in the LGBTQIA community, not everyone out there is familiar with her name. So, who is Lena Waithe? As it turns out, Waithe is a talented writer and producer who makes it a point to help underrepresented voices succeed in the entertainment industry. In short, Waithe is an inspiration to many.
Back in May, MTV announced Waithe would receive the Trailblazer Award. "Lena is shaking up Hollywood and breaking cultural boundaries through her innovative and authentic storytelling," Amy Doyle, the general manager of MTV, VH1, and Logo, shared in a statement, according to The Hollywood Reporter. "Her unwavering passion for equality and inclusion make her the perfect recipient for this year's Trailblazer Award."
Doyle's kind words are all true. Waithe — who grew up in the South Side of Chicago — has shared plenty of authentic stories throughout the years, especially on Master of None. Most notably, Waithe received widespread praise for "Thanksgiving," an episode she co-wrote about her character's "coming out" story. The script was inspired by Waithe's own experiences coming out to her family, and the episode touched *a lot* of lives.
Waithe summed up the power of telling a "queer brown girl's story" in an inspiring interview with the The Los Angeles Times, explaining:
The cool thing about the episode is even though it's about coming out, it's about being a person of color, but it's also just about being different and trying to come to terms with that. I think everybody has a thing about them that makes them different or makes them unique. That really makes me happy. That a queer brown girl's story could make people go, 'Oh,I see myself in that.' That's when art is doing its job.
Following the episode's premiere, Waithe was nominated for a 2017 Primetime Emmy Award in the category of Outstanding Writing for a Comedy Series. Waithe won, and she became the first woman of color to win an Emmy for best comedy series writing, according to The Washington Post.
Waithe's acceptance speech was a moving tribute to the LGBTQIA community, as well as a celebration of people's differences. Waithe said in her speech, according to TIME:
I love you all and last but certainly not least my LGBTQIA family. I see each and every one of you. The things that make us different — those are our superpowers. Every day when you walk out the door and put on your imaginary cape and go out there and conquer the world, because the world would not be as beautiful as it is if we weren't in it. And for everybody out there that showed us so much love for this episode, thank you for embracing a little Indian boy from South Carolina and a queer black girl from the South Side of Chicago.
As for what Waithe is up to now, she's currently working on the second season of The Chi, a TV series "centering on a group of residents who become linked by coincidence but bonded by the need for connection and redemption," in the South Side of Chicago, according to Variety. Additionally, Waithe recently starred in Ready Player One.
But wait — that's not tall. Waithe also partnered up with Sight Unseen Pictures, a production company, to support marginalized voices. Waithe said about her goals, according to Vox:
I know so many phenomenal writers who happen to be people of color, who happen to be part of the queer community, who happen to be trans. I want to make sure they have an opportunity as well. Because the more stories we have, then we will start getting some black Call Me By Your Names, we will start getting some Latino versions of Lady Bird. It's really important that they have a platform. And pretty soon, that list of brown people the industry goes to for everything will get longer, and longer, and longer. The playing field will be leveled, and that's my mission: to level the playing field.
Can I get an amen?
Well, I think it's safe to say Waithe more than deserves MTV's Trailblazer Award. Not only is Waithe's success admirable, but her work to uplift underrepresented voices is especially inspiring.