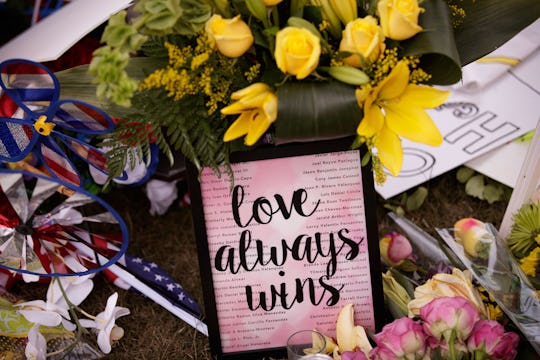 Drew Angerer/Getty Images News/Getty Images
Who Is Leroy Valentin Fernandez? The Orlando Victim Filled The World Around Him With Music
It's been a week filled with heartbreak as we've just started to become familiar with the names and faces of those so tragically taken as the result of the Orlando shooting in the Pulse nightclub. So many of them young, bright, and full of promise, like Leroy Valentin Fernandez, whose life was ended at just 25 years old. But who is Leroy Valentin Fernandez? A happy guy who filled the world around him with music and fun. He will be missed.
His friend Jennifer Rodriguez told the Corvallis Gazette-Times that Fernandez was dedicated to taking care of his mother and had just found a job he really liked as a leasing agent for an apartment complex in Orlando.
"He was like a brother," Rodriguez said. "He was just really very spirited and always happy, you know?"
Fernandez had even recently found love with a dancer with the stage name Eman Valentino. Valentino was also murdered at Pulse Sunday morning. Fernandez loved to dress up and perform dance routines for crowds to some of his favorite stars, including Jennifer Lopez and Beyoncé, according to the Orlando Sentinel. And, wherever he was, he just couldn't help but make music.
"He filled our office with music," his friend and coworker Yolanda Quinones-Perez told the Sentinel. "He sang Adele in the office until we couldn't take it anymore. It just feels very quiet now."
The Sentinel reported that his Facebook page included this message from Christian Colon Vega, which the Sentinel translated from Spanish.
My heart is broken with the news of your departure. I can't contain the tears and the pain I feel inside me. You will always be my baby and I will always love you. May the Lord receive you with open arms and I hope to see you soon my love.
There has been a GoFundMe page set up for Leroy Fernandez to help his family with expenses, but, as the Washington Post reported, the Florida Attorney General's office warns many crooks are likely to use the mass shooting tragedy to scam people who think they're helping the victims.
"Please continue to help," Florida Attorney General Pam Bondi warned, according to the Post. "However do your due diligence."
She added anyone who is concerned with a particular, potentially fraudulent fund-raising effort on behalf of the victims of the Orlando tragedy can call her office at 866-9-NO-SCAM.