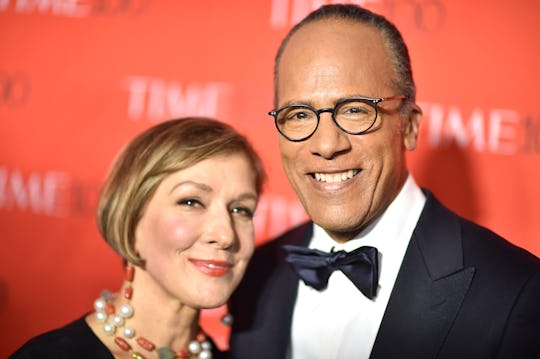 Dimitrios Kambouris/Getty Images Entertainment/Getty Images
Who Is Lester Holt Married To? He & His Wife Have Two Sons
Lester Holt, the chosen moderator for the first presidential general election debate, has had a robust history in news and journalism. His straightforward reputation makes him a fair choice for Republicans and Democrats alike. Though he's a well-known face on NBC, his personal life is less advertised, though his family has been integral in supporting his career. So, who is Lester Holt married to? He and his wife Carol Hagen-Holt have been married since 1982 and have two adult sons.
Carol Hagen-Holt is a real estate salesperson in New York. Her online bio, courtesy of the real estate company that she works for, praises Hagen-Holt's "friendly, engaging personality," remarking that her clients have described her demeanor as "calming" and "reassuring." Before working in real estate, Hagen-Holt worked in a a variety of other industries, including non-profit fundraising, as well as sales in the travel industry and the cosmetics industry.
This summer, Hagen-Holt traveled to Rio where her husband was covering the 2016 Olympics. Replete with photos of stunning Brazilian views, loving behind-the-scenes snaps of Holt, as well as articles on stadium architecture, Hagen-Holt's Twitter account chronicled the adventure. In addition to sharing her travels, her tweets illustrate her love of real estate—interests that are echoed in her bio. Self-describing as a "Global NoMad, devoted mother and loving wifey," Hagen-Holt notes that, through her Twitter, she's "celebrating the amazing world of design and real estate." Her deep love for the look and feel of New York City is expressed through her celebration of the city's incredible views through tweets of the Manhattan skyline.
Another thing Hagen-Holt can't resist tweeting out to the world? Puppies. Lots of 'em.
In an NBC Today feature celebrating Holt's 10th anniversary anchoring the program, his family was invited to join him on-air. In the interview, Hagen-Holt reminisced about the times she was able to join Holt's worldwide travels. Their sons Cameron, who works at the station Holt worked for previously, and Stefan, who works in finance, commented on what it was like growing up with a father who works on television, noting that it was nice to be able to see him on TV if he wasn't at home. At the end of the program, Holt held his wife's hand and said: "I thank all of you guys for all of your support, it's been important... and your sense of humor!"
Holt's supportive, secure family has allowed him to take risks in this name of truth-seeking and journalism. His wife has remained an active participant in his career, applauding his successes and—quite literally—coming along for the ride. If she isn't present for Monday night's debate, Hagen-Holt will surely be watching her husband moderate on-screen, cheering him on as usual.