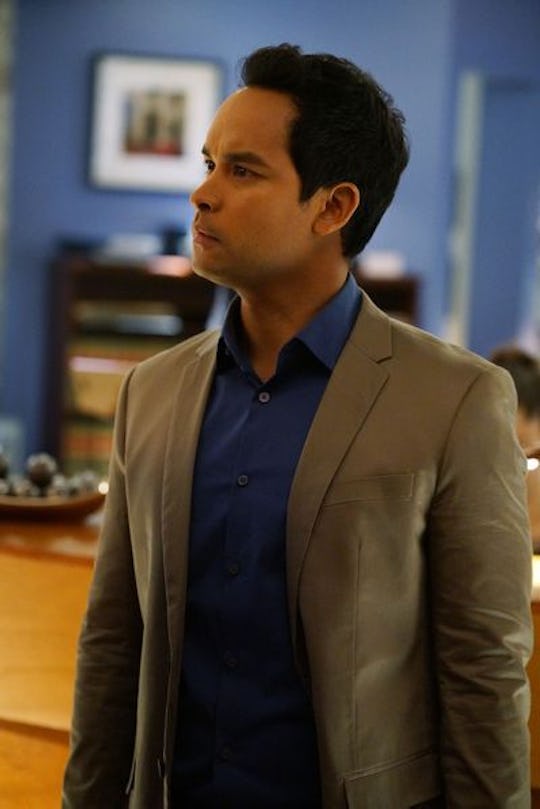 Adam Taylor/ABC
Who Is Levi On 'Notorious'? He's More Than Just Oscar's Business Partner
It seems with every new episode of Notorious there's a new surprise or twists that catches fans off guard and Thursday night's episode was no different. When we were first introduced to Levi in the premiere episode, he was just Oscar's longtime friend and business partner. Otherwise, Levi wasn't all that noteworthy in the grand scheme of things and was actually used by Jake as a pawn to take some of the heat off of Oscar when he was suspected of a hit and run. However, now it's become clear that there's more to Levi than meets the eye. So who is Levi on Notorious and what is his plan for Oscar?
After appearing in the Syfy hit drama 12 Monkeys, Ramon De Ocampo has taken on the role of Levi on Notorious. You may also recognize Ocampo from his appearances in Sons of Anarchy, CSI: Crime Scene Investigation, Medium, Killer Instinct, and The West Wing. Ocampo obviously isn't new to the small screen and he really steps up as Levi in the latest episode of Notorious.
The incriminating photos that were sent to Julia were mailed to her in an envelope. By looking at the postage stamps on the envelope Ryan was able to discover that it was actually Levi who sent the photos. Although Levi is supposed to be Oscar's best friend and business partner, he sent Julia incriminating photos of Oscar, Sarah, and Jake. Julia accused Levi of trying to take over Oscar's company by getting him thrown in jail so Levi could become CEO but Levi denied it. Still he couldn't give a reason for why he sent those photos to Julia and to make matters worse it seems sending those photos wasn't the only way Levi stabbed Oscar in the back.
It turns out Levi has also been catfishing Oscar, pretending to be a woman named "Vicki." Oscar not only sexted "Vicki" but also developed very real feelings for her only to discover that it was Levi pulling the strings all along. Why Levi would catfish his best friend remains to be seen, but it's possible Julia was right all along. Levi may be trying to take Oscar's business from right under him and is doing everything in his power to tear Oscar down, including uncovering all of Oscar's deep, dark secrets.
Now that everyone knows the truth about what Levi has been up to, it won't be long until all of Levi's schemes are uncovered. Even if his endgame isn't to steal Oscar's company, Levi's still clearly up to something, it's just a question of what.