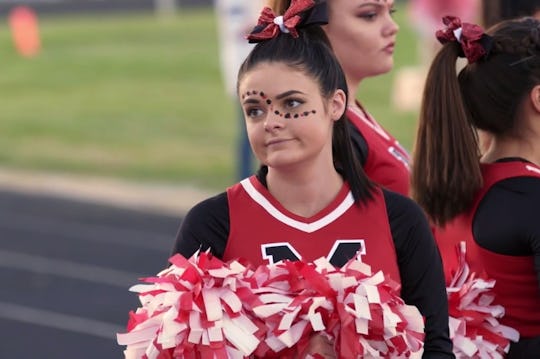 MTV
Lexi's Relationship Took An Unfortunate Turn On 'Teen Mom: Young And Pregnant'
It's clearly not easy to be pregnant in your senior year of high school. In addition to the obvious struggles of getting ready for a baby, the normal difficulties of adolescence don't go away, which include the ups and downs of relationships. This fact is exemplified by 17-year-old Lexi on MTV's latest Teen Mom spinoff. So who is Lexi dating on Teen Mom: Young and Pregnant? She got pregnant by her boyfriend of four years, Kyler, but like any teenage relationship, the two have their set of own problems.
Though Lexi and Kyler were together for a long time, they had broken up by the time the show started filming and Lexi was several months pregnant with their child. In her casting tape, Lexi worries that Kyler isn't ready to be a father. And from the looks of things on the show, he agrees. He's also not ready to commit to Lexi. Though she clearly wants to be with him, he tells her that she's "clingy" and he felt "stuck" when they were together. He really just wants to have a normal high school experience and have fun without a girlfriend. So it looks like Lexi is going to be a single mom. Hopefully Kyler will be able to be a father to his kid, even if he and Lexi aren't together.
In the first episode, viewers watched Lexi struggle to figure out her often confusing relationship with Kyler, as well as keep up with normal high school activities like being captain of the cheerleading team. She explained to the camera that she hopes she and Kyler can get back together, but that he was really upset when she told him about her pregnancy. Nevertheless, he said that he wanted to be in the baby's life, and Lexi clearly hopes that this is the case. She confided to a friend that though he appears to be enjoying being single, he'll still sometimes be affectionate with her like a boyfriend would.
In the second episode, the couple had an even more open discussion. Lexi confided that she hadn't taken off the promise ring Kyler gave her, even after the breakup, because it made her feel like something was missing. This is the discussion in which Kyler called Lexi clingy and compared the relationship to being a fly stuck in a trap. Unfortunately, it looks like Lexi and Kyler are not getting back together this time, and the young mom-to-be had to face that fact.
These days, judging by Lexi's social media accounts, including her Twitter and Instagram, she's focused more on her son than on her relationships, though she and Kyler could be back together. Her Twitter photo is one of herself and Kyler, and she wrote in a tweet, "He's still my best friend." So really, that could be interpreted either way. On the one hand, it could mean that he's still her best friend even after they've broken up, or it could mean that he's still her best friend meaning they're still a couple. In either case, I sincerely hope that Kyler has learned that he can't just have fun anymore if he wants to be a part of his son's life.
In just a couple of episodes, Lexi has shown herself to be a brave and mature young woman by not letting people in her small town get to her. She faced judgment and criticism as a pregnant cheerleader, and from the sales assistant helping her pick out a homecoming dress. But Lexi managed to find a gorgeous dress she loved and cheered at her high school football game anyway. With or without a boyfriend, you go girl.
Check out Romper's new video series, Romper's Doula Diaries:
Watch full episodes of Romper's Doula Diaries on Facebook Watch.