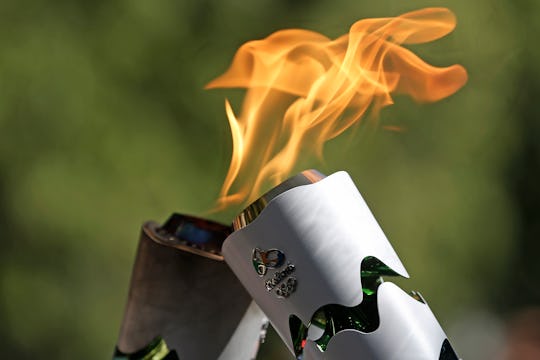 Handout/Getty Images Sport/Getty Images
Who Is Lighting The Rio Olympic Torch? It's Kept Top Secret Until The Opening Ceremony
It started the journey to the Rio Games with a ceremony where it all began—at the ancient ruins of the Temple of Hera in Olympia, Greece. The Olympic torch, one of the most meaningful symbols of the games, and the spirit of peace through competition, is carried, with great care and fanfare from Greece to the game's host city, which this year is Rio de Janeiro, Brazil. Who is lighting the Rio Olympic torch? It will remain a closely guarded secret until the opening ceremony.
At the opening ceremony, the final torchbearer of the flame ascends to light the cauldron, but the identity of that torchbearer will be kept top secret, according to NBC News. There have been many great moments of the lighting of the cauldron at the Olympic Games. Most notably for Americans in particular, was when Muhammad Ali ascended the steps in Atlanta with the Olympic torch. Separately, four years before at the opening ceremony for the 1992 Games in Barcelona, an athlete fired a lit arrow at the cauldron to set it aflame. There have been other epic moments in Olympic torch relay history marking the relay of the torch over oceans, valleys, and deserts.
This year, in an expression of solidarity with growing refugee communities, 27-year-old Ibrahim al-Hussein, one of a millions of Syrian refugees who crossed into Greece, will carry the torch through a refugee camp in Athens. Al-Hussein lost his leg in a bombing and will complete the run on a prosthetic leg. This is the first time in history a refugee will carry the torch, according to BBC News.
There will also be a team of refugees at the Rio games. The team, called Team Refugee Olympic Athletes, is a group of 10 competitors impacted by the global refugee crisis without a national team to join. The members of the team were selected by the International Olympic Committee's Executive Board.
Despite the ceremony and historic nature of the Olympic torch relay, the journey hasn't all been smooth. At the lighting ceremony in the Amazon city of Manaus, Brazil, a jaguar was shot and killed after it approached a nervous soldier, Yahoo Sports reported. In Maracaju, Brazil, a 27-year-old, acting on a "dare" doused the torch with water as it passed, according to BBC.
The Olympic torch will be passed between as many as 12,000 people in Brazil alone on its journey to the opening ceremony in Rio on August 5, BBC reported.
As for the final torch bearer who will have the honor of lighting the Olympic flame, it won't be made public until the big moment in Brazil, but smart money is on a notable and revered Brazilian. Soccer legend Edson Arantes do Nascimento, known as Pelé, is someone many think would be a good choice, but for now, all anyone can do is guess.