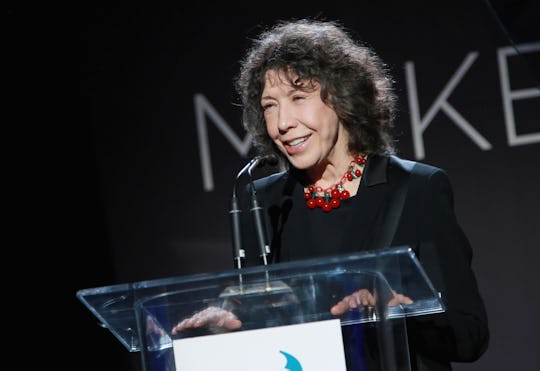 Jonathan Leibson/Getty Images Entertainment/Getty Images
Lily Tomlin & Jane Wagner Are #RelationshipGoals
Each year at the SAG Awards an actor is honored with the Life Achievement Award and this year it'll go to actress Lily Tomlin. The actress, who's known not only for her amazing acting capabilities but also her kind heart, will probably be bringing her spouse along to the awards show. So who is Lily Tomlin married to? She's been married to her partner Jane Wagner for a little more than three years, however, their relationship began many years before that.
The couple first met back in 1971 when Tomlin invited Wagner to Los Angeles to collaborate on her comedy record album And That's The Truth. Though the couple didn't officially marry until December 2013, they've been together for over 40 years. For the duo, coming out was never a big deal and while they never hid their relationship, it wasn't something they felt they needed to discuss in interviews.
Not only do Tomlin and Wagner have a personal relationship, but they continue to have a professional one as well. In the same year they were married, they worked together on the short film An Apology to Elephants, which Wagner wrote and Tomlin narrated. The film did incredibly well and even won Tomlin an Emmy for Outstanding Voice-Over Performance that same year. It's clear Tomlin and Wagner make a great team and it'll be awesome to see them together for this rewarding moment for Tomlin.
When Tomlin first began her career, she was a stand-up comedian and performing Off-Broadway during the 1960s. Since then, her resume has seriously grown, both in film and television across the board. Currently she's starring in the Netflix series Grace and Frankie, but prior to that she also appeared in shows like Web Therapy, Malibu Country, Damages, Desperate Housewives, and The West Wing. If you were a fan of The Magic School Bus cartoon series, she also did the voice of Ms. Frizzle. Amongst the many films she's done, she's most known for her roles in I Heart Huckabees, Nashville, and 9 to 5. It will be her 9 to 5 costars, Jane Fonda (who also stars alongside her in Grace and Frankie) and Dolly Parton, who will be presenting the award to Tomlin on Sunday.
Make sure to tune into the SAG Awards at 8 p.m. ET on Sunday, Jan. 26 on TBS or TNT to see Tomlin get the award she clearly deserves.