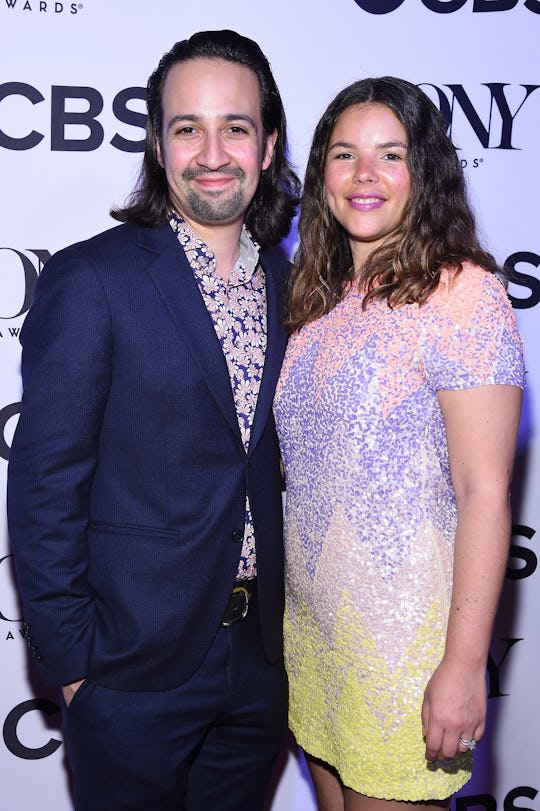 Gary Gershoff/Getty Images Entertainment/Getty Images
Who Is Lin-Manuel Miranda's Wife? Vanessa Nadal Is Just As Successful As Her Husband
Lin-Manuel Miranda is more than just successful, he's a dream come true. His talent is the gift that just keeps on giving. From his first Broadway hit, In the Heights, to his now sold-out musical, Hamilton, Miranda has become a household name, not only on Broadway, but in Hollywood, as well. He's already contributed his skills to the music for Star Wars: The Force Awakens and Disney's upcoming animated film, Moana, and he'll be co-starring in the new Mary Poppins film alongside Emily Blunt. Miranda continues to stay busy and his work ethic is incredible. And, it should come as no surprise that Lin-Manuel Miranda's wife is just as successful and incredible as he is.
While Miranda continues to dominate the arts, his wife, Vanessa Nadal, rules the sciences and law. From 2000 to 2004, Nadal attended Massachusetts Institute of Technology (MIT) and got her Bachelors of Science in Chemical Engineering. While there, she was also a part of the school's Dance Troupe, proving Miranda isn't the only with moves in the family.
After graduating from MIT, Nadal went to work for Johnson & Johnson for almost three years before deciding to go to Fordham University to get her law degree. Since then Nadal has been killing it as an attorney. Working as an associate for Jones Day for almost six years she handled federal, state, and international cases. She also worked in various fields of the law including breach of contract cases, healthcare and pharmaceutical matters, intellectual property, environmental litigation, enforcement proceedings, civil RICO litigation, and Fair Credit Reporting Act matters. It's clear Nadal is very well-rounded and skilled in everything she does.
According to Nadal's LinkedIn page she recently left Jones Day, but there's no doubt that she'll be doing something even bigger and better in the near future. Besides being incredibly smart and an amazing attorney, though, Vanessa is also a really great mom to her and Miranda's one-year-old son, Sebastian, and a proud wife to Miranda.
Throughout Miranda's continued success on and off Broadway, Vanessa has been there every step of the way and it's clear these two are crazy in love with each other. No doubt these two will conquer the world together some day and we can't wait to see it happen.