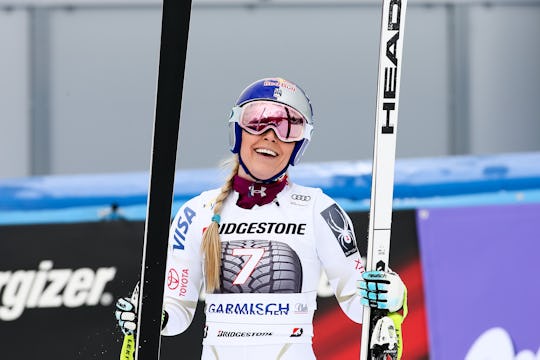 Millo Moravski/Agence Zoom/Getty Images Sport/Getty Images
Who Is Lindsey Vonn Dating? The Olympic Skier Only Has One True Live Right Now
With the 2018 Winter Olympics upon us, it's time to get acquainted with some of Team USA's finest, like skier Lindsey Vonn. She's definitely going to amaze fans when they watch her compete, which might be why so many people are wondering who Lindsey Vonn is dating. Or not dating, for that matter. We don't like to diminish a woman's professional successes, athletic or otherwise, by only focusing on her personal life, but it was Vonn herself who brought it up on social media, so let's indulge.
The American skier responded to a tweet from late night host Jimmy Fallon, who asked people to share why they were single with a hashtag. Vonn tweeted back at him, "I'm single because I only have eyes for the Olympics #whyimsingle #onetrackmind." Which might be the best response ever — who needs romance when you have gold medals to stack?
Her tweet actually backs up the official word on her most recent romance, which ended this fall. Vonn and former boyfriend Kenan Smith split in November after a year of dating, according to People.
A source close to the athlete told the publication, "Unfortunately, their busy schedules ultimately took a toll on the relationship." They added that it was "amicable" and that they were "still friends," but that Lindsay was "laser focused" on training and was planning leaving the country to start competing. Sometimes, you just have to make a choice about how much you can handle.
Over the summer, Vonn was rumored to be dating Aaron Rodgers, who had just split with Olivia Munn. And Vonn was in a public relationship with Smith, so it was extra, well, extra everything. It all started because the two had commented on each other's Instagram posts and people immediately began gossiping. Things got so bad that they both had to clear the air. For her part, Vonn made a statement on Twitter saying:
It's just hard sometimes being under the microscope. There are so many more important stories to be had out there than people trolling me about a comment on Instagram. I try my best not to listen, but sometimes it can be a little frustrating.
Just after her divorce from Thomas Vonn, the skier dated Tiger Woods back in 2013, which she has referred to as a "dark" time, in her book Strong Is the New Beautiful: Embrace Your Natural Beauty, Eat Clean, and Harness Your Power.
According to Radar Online, she wrote that she was having a setback in her career, after a knee injury kept her from competing in the Sochi Olympics, and had to undergo knee surgery in Florida. She wrote that she became really depressed and that her physical therapist would sometimes have to physically yank her from bed, as Shape reported. Vonn and Woods continued to date, but, she wrote, their schedules got in the way. In her book she added that they are still friends.
It's that recovery from an injury that makes these Olympics so important — Vonn is coming for a medal. She told Shape, "These last two injuries have been really devastating for me timing-wise, but that's only making me more determined since I know that my next Olympics will probably be my last."
Hopefully, she makes it to the slopes. ESPN reported that Vonn's planes to PyeongChang kept getting delayed. Vonn kept her followers updated on the travel disaster writing, "Finally on a new plane! Have to give a BIG thank you to all of the flight attendants for working overtime to stay on this flight. They all volunteered and we wouldn't be able to fly without them!"
The good news is that she also wrote that there were other Olympians on her flight, including Germans and Italians who were flying out of Munich. So if she doesn't make it, a whole bunch of other people won't either. Hopefully, that won't happen and she'll have a clear head for her events. There'll be time for love after the games.
Check out Romper's new video series, Romper's Doula Diaries:
Watch full episodes of Romper's Doula Diaries on Facebook Watch.