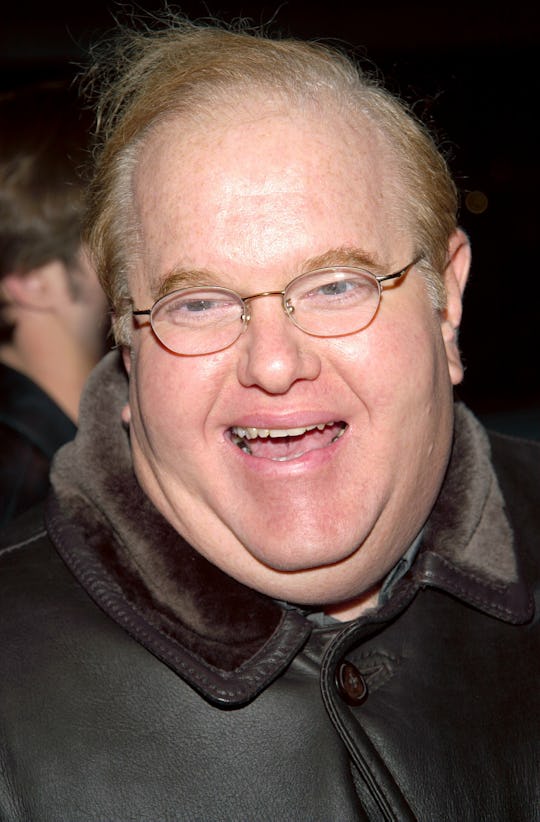 Lawrence Lucier/Getty Images Entertainment/Getty Images
Who Is Lou Pearlman? The Former Backstreet Boys Manager's Death Has People Talking
He once claimed he'd discover the next Justin Timberlake upon his anticipated 2029 release from prison, but on Friday, former Backstreet Boys manager Lou Pearlman died in federal custody. Sentenced to 25 years in 2008 after the exposure of a massive fraud scheme that swindled investors out of more than a collective $300 million over about 20 years, Pearlman had previously represented some of the bestselling boy bands ever. Add in a career further tarnished by Pearlman's alleged, unsubstantiated sexual misconduct with some of the boys he managed, and onetime 'NSYNC member Chris Kirkpatrick's Twitter reaction of having "mixed emotions" about his death begins to make sense, as it encapsulates what a flamboyant, enigmatic character Pearlman really was.
In the 1990s, Pearlman launched both the Backstreet Boys and 'NSYNC, and, according to The Orlando Sentinel, is responsible for starting the boy band craze of that decade. But screaming fans and impressive record sales weren't the only result of the entrepreneur's hustle (and rampant greed): He also persuaded 10 financial institutions and about 250 individuals, including family and friends, to sink hundreds of millions of dollars into fraudulent businesses, including two airline "companies" that didn't actually exist at all, causing some retirees to lose their life savings.
Pearlman died at 62, but the Federal Bureau of Prisons has not yet revealed how he died. Once known affectionately as "Papa Lou" by many of the young men whose careers he started, Pearlman suffered a stroke in his Texas prison in 2010, The Hollywood Reporter's Seth Abramovitch wrote in 2014 after interviewing Pearlman in prison. At the time, Pearlman admitted that he "deeply regret[ted] what happened," and said that if he had been permitted to, he would have developed more bands from the federal correctional institution in which he lived in order to make money to reimburse those he had swindled. "I know if I was out there, we'd give One Direction a run for their money," he said.
If he were still a free man, though, it's more likely that Pearlman would have attempted to run the bands with which he was involved out of their money. He buoyed some of the bestselling boy bands ever, like O-Town and the Chippendales in addition to the Backstreet Boys and 'NSYNC, to fame — though not necessarily fortune, as all but one of his acts eventually sued him for misrepresentation and fraud. (Even after the band had a No. 1 album in 1998, Pearlman attempted to pay its members only $25,000 apiece when they expected six figures, former 'NSYNC member Lance Bass told The Hollywood Reporter.)
"The sad thing is, Lou could have had it all," he said. "He could have had the new Motown in Orlando. But that's where greed comes in. He was just a really greedy person."
Pearlman's Ponzi scheme was discovered in 2006, and he soon fled the United States. Authorities caught him the next year on a resort in Bali, Indonesia, using the fake name A. Incognito Johnson. Just a few months later, Vanity Fair published "Mad About the Boys," an examination of Pearlman's alleged molestation of the boys in his care. The piece contains no firsthand accounts of inappropriate behavior, relying instead on heavy hearsay and characterizes the man's predilections for young boys as an open secret among those he worked with.
"Some guys joked about it; I remember [one singer] asking me, 'Have you let Lou blow you yet?'" Steve Mooney, Pearlman's live-in assistant of two years, told Vanity Fair's Bryan Burrough. "I would absolutely say the guy was a sexual predator. All the talent knew what Lou's game was. If they say no, they're lying to you."
Talking with The Hollywood Reporter in 2014, Pearlman insisted that the Vanity Fair piece contained unflattering anecdotes only from "people that had a grudge," and were absolutely not true. "Nobody who I've made a success has ever accused me of anything negative like that," he said.
Negative accusations, though, are what stand out about Pearlman's career. He was convicted of conspiracy, money laundering, and making false statements during a bankruptcy proceeding, amid messy rumors of alleged sexual misconduct. It's impossible, now, to know, what exactly his true motivations for jumpstarting the boy band craze of the 1990s really were, but it's clear that "Quit Playing Games (With My Heart)" and No Strings Attached probably wouldn't have happened without him.