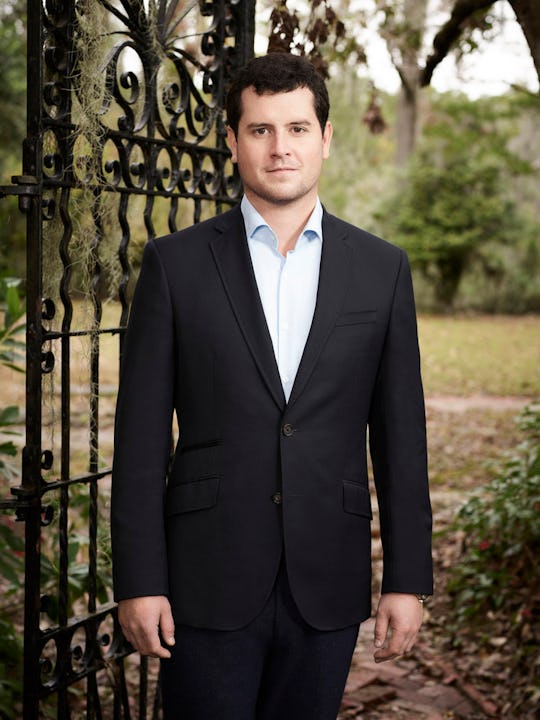 Virginia Sherwood/Bravo
Louis Oswald Is A Successful Native On 'Southern Charm Savannah'
Southern Charm is getting a couple of spinoffs set in cities across the south following the success of the original set in Charleston, South Carolina. The latest announcement has been for the forthcoming Southern Charm NOLA, but first, Southern Charm Savannah will premiere on Monday, May 8. Among its stars are couple Louis Oswald and Hannah Pearson, whose four-year-long relationship seems to be at a very important turning point (read: possible engagement). But who is Louis Oswald on Southern Charm Savannah? He's a native of the Georgia city with deep roots.
Louis attended Auburn University in Alabama, but returned home to follow in his grandfather's footsteps and become a financial advisor. He worked in wealth management for several years at a large bank after obtaining a finance degree, but eventually started feeling the creative itch. He launched a men's sock company with friends, aiming to make luxury dress socks in bold, fun patterns. Thus, JL the Brand sock collection was born. According to the website, JL the Brand is "committed to the finest quality in fashion with an added touch of ego," which is probably the best description of male Bravolebrity fashion choices ever written. He now juggles both his lucrative bank job and his creative side hustle, which quickly took off.
It seems like the main focus of Louis' storyline on the show will be his developing relationship with fellow cast member Hannah, an Atlanta native who moved to Savannah five years ago for a new job and a newly gained financial independence. They met through mutual friends and grew close for several months before they began dating, although according to his Bravo bio, Louis was "smitten" from the start. They've been together for more than four years now, and, his bio states, "Whether Louis is ready or not, the time is quickly approaching when he will have to make some real decisions about his career, his love life, and his future."
A potential obstacle may be the fact that Hannah's parents suffered a messy divorce while she was studying abroad in college. Her relationship with her father became strained and led to her leaving a career in fashion marketing behind for a more financially stable sales position at a trucking company. The divorce left her feeling "shocked and heartbroken," which may affect her ability to commit to Louis. She also seems to be questioning whether she's ready to settle down in Savannah permanently. We'll have to stay tuned to find out whether things work out for the couple.