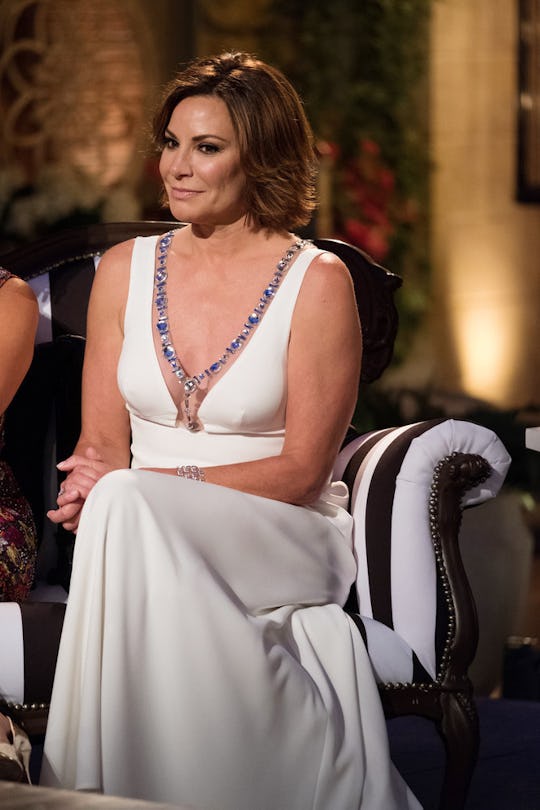 Charles Sykes/Bravo
Everything You Need To Know About Luann de Lesseps' Love Life On 'RHONY'
Every season of Real Housewives has at least one cast member suffering the complete implosion of her life and last season was Luann de Lesseps' year. The entirety of Season 9 revolved around her whirlwind, supposedly fairytale romance with Tom D'Agostino, which ended just seven months after they got married in a huge, broadcast affair. So as fans tune in for Season 10, they may be wondering: who is Luann de Lesseps dating now? It's been eight months since she announced her divorce and Luann seems to be taking some time before she gets too serious with anyone again.
This season reportedly shows Luann "recovering from the divorce and jumping into the dating scene again," according to Page Six. One anonymous source told the outlet that Luann is "dating tons of people," while another said, "There's nobody serious." But that was back in September, fresh off the bombshell announcement — made just days after shooting the reunion special — that her marriage had crumbled.
Later that same year, in December, Luann herself admitted to Entertainment Tonight that she was taking a break from romance. While walking the red carpet at Daily Mail's "Unwrap the Holidays" party, she said:
I'm not really dating. I'm taking time for myself. I'm enjoying my children and my girlfriends…I'm getting my life back. I'm getting, you know, I'm looking for an apartment in the city. So, I'm just trying to get back on my feet. So, I don't have time for boys right now, but that doesn't mean I'm dead.
She happened to be joined at that party by fellow Housewife Dorinda Medley, who swooped in to confirm that Luann was not, in fact, totally turned off by men, as she had checked a cute guy out just moments before. "I saw a quick head turn as we we coming up the stairs," Dorinda revealed. "Still alive, gang! Still alive."
In an interview with People Now ahead of the Season 10 premiere, Sonja Morgan was happy to report that men still flock to Luann, even though she became somewhat romantically radioactive last season. She stated:
It's funny, her and I were saying — the men come to us. It's like, how do you stay focused with the shiny bright lights of New York and all the temptation? And that includes men...Basically, it's hard to say no all the time. I know [Bethenny Frankel] comes from a place of 'yes,' but I'm sometimes just having to say — I'm, most of the time, saying no.
Sonja went on to say that she believed "an older man with a lifestyle and his own set of friends" would be the most compatible match for her former roommate, and that the problem with Tom was his perma-bachelor lifestyle. Despite the total train wreck of last season, it seems like Luann's friends are genuinely rallying around her in her time of need. Even Ramona Singer managed to resist saying "I told you so," at least, according to her.
"As soon as I heard the news, I reached out to her and I said, 'I'm so sorry, my heart is breaking,'" she told ET. "We all wanted it to work. When she took that plunge, and made that move, we were all hoping it would work."
Luann's tagline this season is "The most interesting people make the best headlines," which may be a nod to her public arrest for alleged battery in Florida late last year (for which she has since issued an apology). Hopefully, Luann has a brighter season ahead of her in 2018.
Check out Romper's new video series, Romper's Doula Diaries:
Watch full episodes of Romper's Doula Diaries on Facebook Watch.