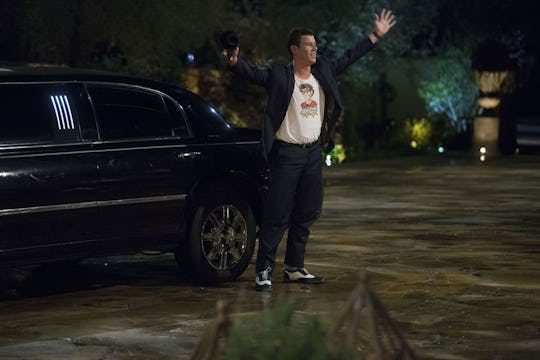 Paul Hebert/ABC
Lucas From 'The Bachelorette' Has More To Him Than Just "Whaboom"
For the contestants on The Bachelorette, it's all about finding a way to stand out from the crowd of suitors jockeying for the leading lady's attention, especially in the beginning. Everyone wants to make their mark early on, which is why they choose the zaniest possible way to turn up at the mansion or create elaborate ruses to steal people away (see: The Bachelor's Corinne, and the bouncy castle). The stereotypically ridiculous jobs also come into play when a contestant is trying to stand out. Though silly jobs (past favorites include "Canadian" and "Bachelor superfan") cause a stir, they usually prove too gimmicky to keep someone around in the long run. Enter Lucas and his alleged job: "whaboom". What does this mean and who is Lucas on The Bachelorette?
A 31-year-old Gemini with a twin brother, he hails from Woodside, California, and has since settled in Los Angeles — Santa Monica in particular. And in an IMDB biography penned by Lucas Yancey himself, he gives some insight into his personality beyond the whaboom of it all. Though he only appears to have about six credits to his name (nothing major, unless you're a connoisseur of Doritos commercials), he refers to himself as an actor/writer/producer who is "is known for his Comedic Films, TV Shows, Reality TV, and Commercials" (capitalization his).
But Lucas doesn't stop there; he continues to sing his own praises, summing himself up thusly:
He's a jack of all trades and a master of many! A renaissance man, who has a vision that only the wisest of wise understand. Cast him in your next film, and you will never be disappointed. With his friendly demeanor, charisma, charm, wit and innovative comedy, he will always aim to please!
He also makes sure to specify his burrito order.
Though Lucas clearly has no shortage of words with which to describe himself, the one that seems envelop everything is "whaboom." In a Facebook Live chat, host Chris Harrison explained it as "a lifestyle. It's an essence. It's who he is. It's a noun, it's a verb, it's an adverb. You can be Whaboom, you can be Whaboomed, and you can Whaboom. You can call somebody a Whaboom." You can also buy the so-called word on a T-shirt, which Lucas is selling before even making his first appearance on The Bachelorette.
According to Lucas' website, his production company YknotWorld makes comedic short films, many of which can be found on his YouTube channel. But when he's not making shorts or doing stand-up, Lucas works as a real estate investor and developer — it doesn't sound very whaboom, but presumably pays the bills. It'll be interesting to see what Rachel makes of him once he steps out of that limo.