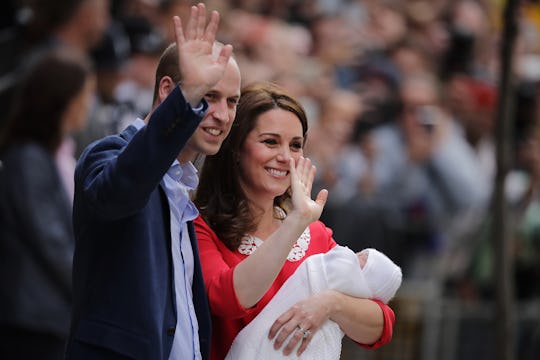 Dan Kitwood/Getty Images Entertainment/Getty Images
Meet Lucy Middleton, Just One Of Prince Louis' Godparents
The world might be eagerly awaiting the opportunity to see Prince Louis again for the first time since his birth in April, but for the Duke and Duchess of Cambridge, their son's christening is still a family event just like any other. Like many couples, Prince William and Kate have looked to their inner circle to choose godparents for their youngest son, and this time around Kate decided to honor one of her cousins. Who is Lucy Middleton? Duchess Kate's cousin is one of Prince Louis' six godparents, but she's the only one who is actually family. And given that both the duchess' parents and siblings will also be in attendance Monday? It sounds like Prince Louis' christening might end up being a bit of a Middleton family reunion.
Though Prince Louis' christening was originally announced in June, the actual guest list had been kept under wraps until Kensington Palace issued updated details on Monday morning. But it's clear that, just as they did with their first two children, the Duke and Duchess of Cambridge have made sure that their son's godparents are people who are special to them. For the most part, that meant naming their long-time friends, but in this case, Kate's cousin, 32-year-old senior publishing lawyer Lucy Middleton, also made the cut.
It's not entirely surprising that there isn't a ton of information available about Lucy — unlike Kate's immediate family members, she rarely makes headlines, and unlike some of Prince Louis' other godparents, like Nicholas van Cutsem, or Lady Laura Meade, she doesn't come from a family with a long history of royal connections. But it definitely sounds like she and Kate share a special relationship: the two are said to have spent their gap year together in Florence, Italy in 2000, according to The Daily Mail, where they reportedly studied Italian for three months at the British Institute, and lived together in a $650-a-month student apartment, according to The Telegraph.
After an additional gap year stint in Chile in 2001, Kate headed off to study art history at St. Andrew's University in Scotland, where she ultimately met Prince William. Lucy, on the other hand, opted to remain in England following her gap year: according to her LinkedIn page, Lucy studied French and Italian at the University of Bristol before graduating from BPP Law School in London in 2004. These days, Lucy works as a lawyer at Penguin Random House, only a short drive away from the Duke and Duchess of Cambridge's official residence at Kensington Palace. And while it's not known if Kate's cousin ever drops in for tea or a visit with her niece and nephews, they do at least see each other at family functions.
In 2014, for example, Kate attended the wedding of Lucy's brother, Adam Middleton, at the Dorchester Hotel in London, according to The Daily Mail, and a year later, she and Prince William named him one of Princess Charlotte's five godparents. And in May 2017, Kate and Lucy both attended Pippa Middleton's wedding to James Matthews, according to The Mirror, where Prince George and Princess Charlotte served as a pageboy and bridesmaid. But Prince Louis and Princess Charlotte aren't the only ones to count one of their parents' cousins as a godparent: in 2013, Prince William's cousin, Zara Tindall, was named as one of Prince George's seven godparents, according to The Telegraph.
While Lucy Middleton may live a much more low-key life than her duchess cousin, it's clear that she's still well in the family fold, and it's meant she, too, has had the opportunity to mingle with the royals. And now, as one of Prince Louis' godparents, it seems she will forever have a special role in the life of the royal family's youngest prince.